Essabi George and Wu face off in first mayoral debate
With less than two weeks until Boston's mayoral election, candidates Anissa Essaibi George and Michelle Wu participated in their first debate Oct. 13. 
The debate showcased the stark contrast between the city councilors' plans for Boston should they be elected. Both candidates tackled housing, public safety and reforming Boston Public Schools. 
A significant portion of the debate was spent discussing the ongoing opioid crisis prominently visible at the intersection of Massachusetts Avenue and Melena Cass Boulevard, colloquially known as 'Mass and Cass.' 
Throughout the debate, Essaibi George framed herself as a moderate counterpart to Wu's progressiveness, criticizing her support of rent control and accusing her of wanting to defund the police. 
"I'm going to say very clearly that Councilor Wu — Michelle — does not believe in the power of that [sic] small landlord. She wants to install rent control in this city," Essaibi George said. "That will create further disinvestment in our city that will keep rents high and push our residents further and further away."
In her rebuttal, Wu cited that many cities across the United States have implemented rent stabilization tactics in conjunction with building affordable housing.
"Everything should be on the table when it comes to addressing our housing crisis," Wu said.
Wu did not respond to her opponent's claim that she intends to defund the police.
A report from Suffolk University/Boston Globe/NBC10 released Tuesday found Wu was leading the polls by 32 points, with 62% of voters expected to vote in the election preferring her compared to Essaibi George's 30%. The margin of error for results was +/- 4.4 percentage points.
George Yeghyayan, a senior political science and economics major, said he intends to vote for Essaibi George.
"I see her as understanding local struggles and needs more than Wu because of her blue collar background in Boston," Yeghyayan said.
Wu is originally from Chicago and moved to Boston to attend Harvard College for her undergraduate degree and later Harvard Law School. She now resides in Roslindale with her family. Essaibi George, a Dorchester native, was a teacher at East Boston High School for 13 years and currently owns a small business. 
Hannah Graves, a senior sociology major, said she plans on voting for Wu.
"As a first generation college student, low income person, a young woman who's invested in social justice advocacy and a person who is trying to protect the planet, I feel that Wu would be a wonderful mayor for the city of Boston," Graves said. 
Either candidate's victory will make Boston political history. The next mayor will be both the first woman and first person of color elected to lead the city, bringing an end to the long line of white men who have served as mayor. 
Wu has been endorsed by a number of prominent Boston political figures, including acting Mayor Kim Janey, Rep. Ayanna Pressley and Sens. Ed Markey and Elizabeth Warren, who was Wu's professor during her time at Harvard Law School.
Essaibi George's endorsements have primarily come from local labor unions, as well as former Boston Police Commissioner William Gross. 
7% of voters are still undecided, according to the Suffolk poll. 
Nathaly Lemus, a sophomore political science student and SGA senator, emphasized the importance of voting in local elections and offered advice to undecided voters.
"It's important to do your own research on each candidate," Lemus said. "Make a list of the major topics and concerts most important to you, and research the candidates thoroughly to decide whether you agree with their approaches." 
Follow Leo on Twitter @leowoods108
Leave a Comment
About the Contributor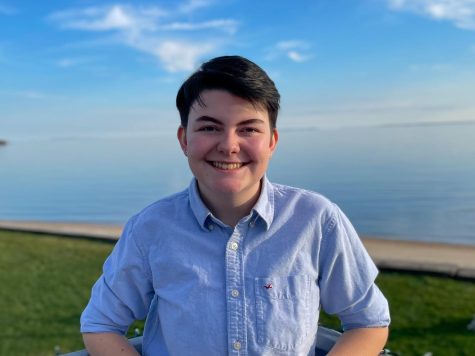 Leo Woods, Photo Editor | he/him
Leo is a junior political science major with a minor in philosophy from Clinton, Conn. When he isn't writing for The Journal, you can find him walking around Boston with his camera taking pictures of the city. He is passionate about politics, Mexican food, and Dungeons and Dragons. In the future, he plans on attending law school and permanently moving to Boston.
Follow Leo on Twitter @leowoods108