The nightmare continues in 'Halloween Kills'
The unstoppable Michael Myers has returned to Haddonfield in "Halloween Kills," the latest installment of the beloved slasher series.
"Halloween Kills," released on Oct. 15, picks up from the events of its 2018 predecessor, "Halloween" and recounts the events from the original "Halloween" from 1978.
40 years later, the supernatural Michael is still an ominous, stalkerish presence in his white mask, work boots and overalls as he continues to hunt down Laurie Strode, played by Jamie Lee Curtis, while killing everyone in his way. 
Michael's violence is off the charts in this movie. The kill sequences are more gory than scary. One man is stabbed in the armpit, another has his eyes gouged out and an entire crew of firemen are gruesomely slaughtered with viewers seeing their point of view from their helmets. 
However, Michael is an iconic horror figure and his high kill count often brought cheers from the crowd in the theater, especially as he emerged from a burning house that Laurie and the rest of the Strode women pleaded to let burn. But the characters seem to never understand what the audience knows. It's Michael and he will never die.
The film was cheesy at moments with many nostalgic references made about the original, and it felt like it was giving too much fan service. The movie began with a dull prologue continuing the story from the 2018 movie with one of the police officers stabbed in neck before it immediately switches to a drawn-out flashback from Halloween night 1978.
This flashback provided an alternative ending to Michael's wrath from the first film, but it was a letdown as it felt like the filmmakers were milking his original story for all the glory. The movie continues to rely on storytelling from flashbacks that were ultimately too redundant. 
The movie's pace didn't pick up until 20 minutes later when it jumped back into the present with the Strode women and Haddonfield townspeople planning to end Michael's rampage once and for all. The film was jolting from this point forward and began to live up to expectations, but hearts would have been beating faster if there was no awkward prologue. 
For this being Curtis's movie, all of her scenes were in the hospital and she was more of a side character. By the way the film was advertised, it seemed like Curtis would be a large part of this sequel. 
The "Halloween" films largely depend on the relationship between Curtis's character Laurie and Michael. After all, the entire series is dedicated to Michael stalking and trying to kill Laurie. She is his final girl. This is the main idea of the franchise and it was disappointing to see Curtis not even get the spotlight or the chance to confront the dark presence in her life. 
However, in this film, viewers got the chance to see the original characters grown up and the storyline was more focused on their emotional and generational trauma. An older Tommy Doyle, played by Anthony Michael Hall, riles up a mob in the hospital to chase after a mental hospital patient who isn't even Michael. This scene perpetuated stereotypes of people with mental illness and provided no value to the film except to fuel Doyle's own power. 
Kyle Richards – currently starring in the "Real Housewives" – played little Lindsey in the 1978 movie and reprised her role. Richards didn't give a convincing performance, but her role was still fun as she hides from Michael's wrath once again. 
Judy Greer, who played Laurie's daughter Karen, gives heartbreaking moments as she begins to grieve the death of her husband from the previous film. Andi Matichak also shines as Laurie's granddaughter and it's hopeful that future "Halloween" films will expand on her character. 
Given that this film heavily relies on background from the first, only those who love the franchise will feel an emotional attachment to it. There is definitely a stronger human connection as the townspeople recount their experiences throughout the film and unite to take Michael down. Watch it for the brutal kills, but understand it's only compelling when you know what it's based on. 
As if the world hasn't had enough of Michael the last 40 years, he will return in "Halloween Ends," set to be released in October 2022. Curtis will return in a final battle against Myers, which is set to be the final installment. 
"Halloween Kills," may have had avoidable mistakes and a less-than-perfect plot, but the menacing Michael and plentiful amounts of blood and gore did deliver.
Follow Sarah on Twitter @thesarahdipity.
Leave a Comment
About the Writer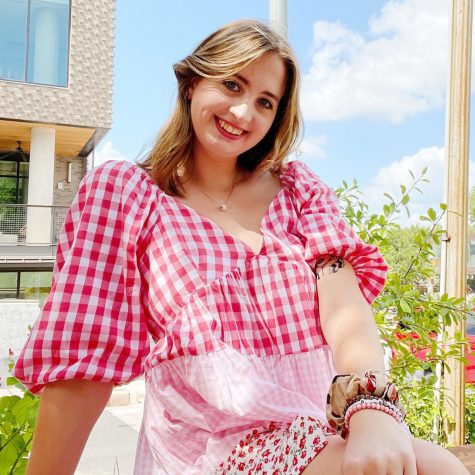 Sarah Lukowski, Arts & Culture Editor | she/her
Sarah Lukowski is a senior journalism and public relations major from Middlebury, Connecticut. Sarah joined The Suffolk Journal in fall 2018 as a Staff Writer and is now the Arts & Culture Editor. When she's not typing away at her computer, you can find her proclaiming her love for Taylor Swift, reading the latest young adult novel, or watching classic horror movies.
Follow Sarah on Twitter
@thesarahdipity
Email her at
[email protected]