The Suffolk University Theatre Department is back in person with a performance of a Shakespeare play in the heart of Boston's Downtown Crossing. 
"The Tragedy of Cymbeline," or more commonly known as just "Cymbeline," is one of Shakespeare's last known works. The play takes elements from throughout the playwright's career and focuses it in one place. The audience will see similarities from his other works throughout the performance. 
"Cymbeline" is centered around King Cymbeline and his daughter, who marries a man the king deems beneath her, as well as what happens after the king banishes him. 
Jim Bernhardt, the theatre department's managing director, facilitated the production's new venue. The performance will be on The Steps at Downtown Crossing, located at the corner of Franklin and Washington Street. Bernhardt worked with the company Downtown Boston BID to reserve the space, where musicians usually play. 
"This is the first two hour, legit, multi-day outdoor production that's been hosted there," said Roz Beauchemin,  communications director of the department. "It's super ambitious for us. We have never done an outdoor performance before, but it reflects the nature of Shakespeare's plays. They were made to be seen outdoors in The Globe Theater."
The show will be in the middle of Downtown Crossing, which leaves the risk of the actors being interrupted by pedestrians.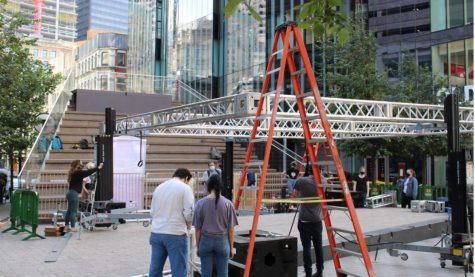 "The magnitude of this outdoor show is different from the controlled environment our actors are used to," said Beauchemin.
The theatre department decided on an outdoor performance after a year of being online. That way, they could be back in person but still continue to take COVID-19 precautions seriously. 
All audience members will be required to wear masks, while the actors will be unmasked more than six feet away. 
Co-directors Laura Shink and Kristi Artinian wanted to give the theater students a chance to do what they came to Suffolk for: to act and put on a production at a collegiate level and leave their laptops at home. 
Artinian, originally from New York, was contacted by Shink to come in from outside of Suffolk due to her in-depth knowledge of Shakespeare's work. 
"This play, it's not produced as much, which I always enjoyed, and which gives audiences a chance to maybe see something they've never experienced before," Artinian said.
The cast and crew had three weeks to prepare for the show, but went in-depth with the analysis of the production.
"This play has every single thing you love in Shakespeare and it almost makes it feel like Shakespeare was writing this saying, 'I'm going to do everything, I'm going to do it all and they're going to love it'," said senior Paige D'Ambrosio, the production's stage manager.  
Amia Rodriguez Josoy, a senior theatre major, agreed that Shakespeare used this play to bring all of his works together. 
"It's all the best parts of Shakespeare rolled into one big play," Rodriguez Josoy said. "I kind of like how it's his manifesto before he left this world." 
After a year of working on productions virtually, the theatre department held nothing back when preparing for this show. 
"As an outsider, having met a lot of these kids for the first time, I'm just incredibly proud," Artinian said. "I feel like every single person in the cast has really been dedicated to it and taken a huge step up."
"Cymbeline" is by reservation only and will run from Oct. 21-24. 
Follow Ashley on Twitter @Ashleyfairchi14.