Softball team sprinting forward with new head coach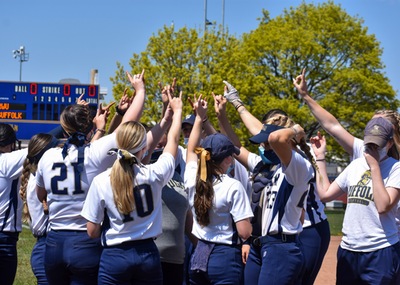 Suffolk University's softball team will have a new coach at the helm for the Spring 2022 season.
"Suffolk had all the criteria I was looking for," said Janet Maguire, the new Softball head coach. "They've had success in the past so I know it is a place we can win, there are so many great people here."
Maguire said Suffolk's athletics staff helped push forward her decision, as she wanted to find a place where she fit in and is able to contribute to the greater success of the athletics department, not just the team. 
Maguire, who was recently hired by Suffolk Athletics, came from Bridgewater State University where she was an assistant coach for five seasons, and head coach for seven seasons. Maguire is also a Bridgewater alumnus. 
Most of her family and friends are here in Massachusetts, which Maguire said had an impact on her decision to come to Suffolk after working as an assistant coach at West Point in New York.
Maguire noted that Suffolk's team has been fantastic thus far, as the players have stepped up and are keeping everyone connected and energized. 
"They are enthusiastic and focused, working really hard," Maguire said.
The season will begin during spring break in March and Maguire hopes to stay competitive within the Commonwealth Coast Conference (CCC). This will be Suffolk's first full season in the CCC. 
She also hopes for the team to work to be the best they can be by making adjustments leading up to the season, she said, and believes the team can be in the top half of the conference if they play well given the talent they all have. 
Ally Cifaratta, who has been on the team for three years at Suffolk, spoke on her thoughts about the upcoming season. 
 "I am really looking forward to this season. Hopefully, it'll be back to 100% normal this spring because I'm a junior and I've still never had a normal softball season while at Suffolk due to COVID-19," said Cifaratta. 
"The coach and the team have already started to work hard and start preparing for this upcoming season," Cifaratta continued. "I can't wait to see the growth we can make as individuals and as a team as we compete in the CCC." 
Cifaratta has enjoyed working with and getting to know her new coach. She said Maguire has been kind and understanding throughout the new change and has been doing a great job of running practices on her own, which can be hard to do with a bigger team. 
There have been few practices this semester and Cifaratta noted that over the summer, the team was definitely anxious about who the new coach would be and how that would affect the team. Cifaratta said those worries went away after meeting Maguire.
"Coach has been introducing some new drills and concepts to all of us," said Cifaratta. "I'm very excited to see the progress we can all make by working hard together." 
Leave a Comment