Women's soccer shuts out Nichols in first ever meeting
The Suffolk University women's soccer team secured their eighth win of the season on Saturday when they beat Nichols College by a score of 3-0. 
The first half of the match was a back and forth battle between the two teams. Suffolk struck first with a goal from junior forward Hayley Long in the 10th minute. 
A little over halfway through the first half, freshman forward Aislinn Servaes netted another one for the Rams, giving them a 2-0 lead that they took into halftime.
Despite their success on offense, the Rams were not playing their best soccer. Suffolk did not get a lot of continuous offensive pressure. In fact, they trailed Nichols in shot attempts 9-8 at halftime. 
"The first half was a little shaky because we were playing the ball over the top and not really connecting," said freshman forward Jazmya Harris. "But I think in the second half we made up for it."
Suffolk did hit their stride in the second half, as they generated more offensive opportunities while also tightening their defense. The Rams registered seven shot attempts in the second half, while Nichols only managed four. 
"In the second half we definitely connected more as a team and played less of a kick-and-run game, which made everyone's lives a lot easier," said junior defender Alex Stamatos. 
In the 74th minute, Lily Christian was able to score one more goal for Suffolk, rounding out the Rams' 3-0 win. 
"Overall, really proud of the group," said head coach Ashley Van Vechten. "We performed in a way that was efficient, ruthless, not our best performance overall, but there were moments that I was really proud of." 
Van Vechten also had high praise for senior Julia Hunt, who is currently playing midfield instead of her usual position of forward. 
"She's playing in an unfamiliar position," Van Vechten said, "but she's learning, she's growing, and she's really starting to showcase what she can do [as an attacking midfielder] for us, which is tremendous."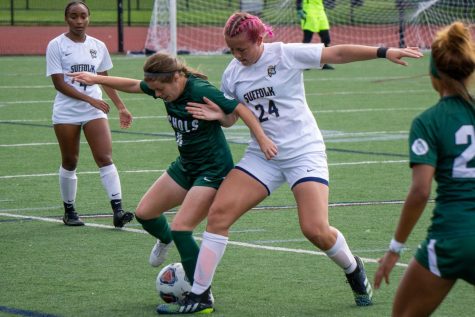 For the Rams, it was their fifth win in six games. 
"Honestly, I think it's all effort," freshman midfielder Annabel Veale said of the team's momentum. "We just have to show up and perform and always be giving 110% even when we don't want to."
After falling to University of New England by a score of 2-0 Tuesday, the Rams are now 8-4 as the schedule is ramping up.
"We're facing the upper half of the CCC, but our performance against [Nichols] definitely shows that we can stand in the CCC and we're excited to see how we do," said senior defender Jackie Kelly.
Next on the schedule, the Rams will visit Endicott on Oct. 16 for a 12 p.m. showdown.
Follow Jamie on Twitter @JamieTaris
Leave a Comment
About the Contributor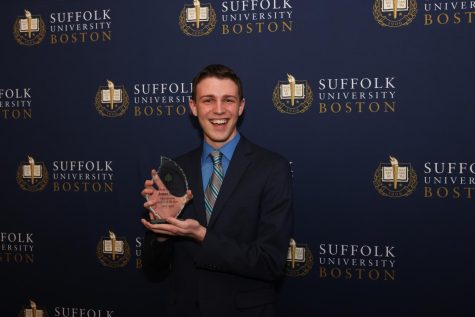 Jamie Taris, Managing Editor | he/him
Jamie is a senior broadcast journalism major and public relations minor from Pelham, New Hampshire. He has a deep passion for sports, especially hockey and football, and hopes to make his way into the sports media field after graduation. Outside of the Journal, Jamie is very involved with Suffolk's orientation department, and he's a member of Suffolk's Program Council. When he's not obsessing over the latest sports news, you can usually find Jamie hiking or camping in the White Mountains, or exploring the city with his friends.
Follow Jamie on Twitter @JamieTaris