Suffolk senior's passion for dance places her on the world stage
Suffolk University senior Valerie Dubinsky has made her mark on the ballroom floor, winning nine national titles and a world championship title.
At just 21 years old, Dubinsky has proven that with a lot of tenacity and support from her family, anything is possible. A first-generation American, her parents immigrated to the United States from Russia. Although she is retired now, she credits ballroom dancing to giving her valuable life lessons, once-in-a-lifetime experiences and the opportunity to travel all over the world.
She started ballroom dancing at the age of 3 when her mother put her and her sister in classes.
"My mom lived vicariously through us, so it was because of her my sister and I started ballroom dancing," Dubinsky said.
Her sister, Sasha Dubinsky, is just 16 months older and is also a retired accomplished ballroom dancer. She is a three-time U.S. youth and under-21 ballroom champion. She has represented the United States at many international competitions and was on the national team for many years. 
Their mother, Lisa Dubinsky, is very proud of them.
"My father is an extremely conservative parent," Lisa Dubinsky said. "All my life I wanted to dance and he told me that smart girls do not jump around with boys in dance lessons. So I decided that if I have daughters they will be able to learn whatever activity they wanted including dancing."
Ballroom dancing is different from other styles of dance, like hip-hop or ballet, since it requires a partner. Over the course of her career, Valerie had three different partners, with the longest partnership lasting six-and-a-half years.
"You need to have a good relationship with your partner. You travel with them — you literally live together. You're doing everything together, so you really need to create that bond," Dubinsky said.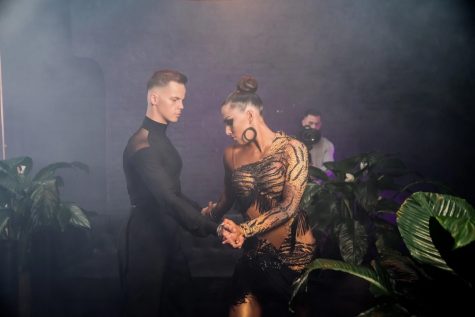 For her, dancing became a full-time job. She started dancing in her hometown of Newton, MA and then went to a studio in Natick, MA. As she advanced, she started dancing at a studio in Brooklyn, NY.
"We would go to New York once a week, train there, stay out there and practice. Then we would also travel to Italy and Russia for dance lessons and probably a few other countries in the mix too," Dubinsky said.
The amount of training she had depended on the day and the week, as well as if she was preparing for a big competition. Usually, it was three to four hours per day. On top of this, through high school and the first few years of college, she juggled school and work at the same time.
"I remember some of my high school friends telling me like 'Valerie you were never in school.' I was literally never in school because I was flying from one place to another place every weekend," Dubinsky said.
Her senior year of high school was especially different. She received special permission from the dean to take fewer courses since she was on season 15 of Fox's "So You Think You Can Dance" and had to travel between New York City and Los Angeles to audition and film. She described this as the peak of her dancing career.
"I applied to 'So You Think You Can Dance' kind of on a whim," she said. "I was at the dance studio and the secretary was like 'Oh Valerie do you want to apply for this?' and I was like 'Sure, why not?' and I didn't think anything of it. Within 15 minutes I had a call from Los Angeles. It was a very taxing process."
Besides appearing on "So You Think You Can Dance," Dubinsky also loved the times she traveled to the world championship in Blackpool, England, to compete. Every time she entered the ballroom, she said she felt chills knowing that all the best dancers in the world have danced on that floor.
"I've been there three times. Once when I was 10, then once I was 18 and then 19," Dubinsky said. "Every single time, it's just such a different experience than any competition that is in America."
Competing was not always easy, especially in the social aspect. She realized that the world of ballroom dance was very toxic.
"My sister and I used to compete against each other, and we always laughed that we were the only two people that are friends on and off the floor. Of course, you have 'friends' and there's plenty of people that I am still in contact with. But at the end of the day they are your competitors, and they don't want what is best for you," Dubinsky said.  "It was definitely tough trying to balance having some kind of social interaction with people at dance competitions but at the end knowing that they are not really your friend."
Competing against her sister Sasha for the same title was not the hard part, she said, as the pair are very close.
"The most frustrating aspect of competing against each other was that our dance partners would get upset with us when we weren't sad that one sister beat the other," said Sasha Dubinsky. "At the end of the day, Val and I are best friends, no matter who wins or loses."
"I always tell my mom the best gift that you gave me was my sister, even though she's older than me," Valerie said.
For their mother Lisa, the toxicity was also a problem on the parents' side of the ballroom floor.
"It was not always easy to handle relationships with partners' parents who tended to be cut-throat competitive and lacked emotional intelligence," Lisa Dubinsky said
Ballroom dancing is also not easy to handle financially. The travel, lessons, competitions and clothing can add up.
"I used to work two to three jobs to be able to afford the necessities," Lisa said. "Both Sasha and Val started working at the age of 15, teaching lessons and helping make dresses, spending weekends and all school vacations in a basement gluing Swarovski stones."
But all the training, traveling and exhaustion paid off for Valerie in the end. Winning awards and titles from around the United States and the world meant that her strenuous lifestyle was not overlooked.
"Winning those titles and gaining that recognition you're like, 'My hard work is not going unnoticed,' which is definitely the best feeling," Dubinsky said.
When the COVID-19 pandemic struck, she decided to stop competing in order to focus on her academics and apply to law school. As of now, she is uncertain when she will dance again.
"I feel like I need to get into law school, get my Juris Doctor, get a job and work as a practicing lawyer. Then after maybe add the dancing back," Dubinsky said.
Her mother hopes that she picks up ballroom dancing again as a hobby after graduating from law school.
"During the last year of her competitive career, I noticed that she outgrew a lot of her dance friends who never had any other interests beyond placing higher and climbing on the Pedestal," Lisa Dubinsky said. "The world of ballroom dancing became too small for her and she was becoming more interested in political and social issues and in literature."
Although she has experience teaching children, Valerie is also interested in taking another route if she decides to start dancing again.
"I think it would be really cool to do something with Parkinson's disease patients and do some kind of classes around that just because giving back to the community makes you feel really good," she said. "I feel like I can definitely do that within my town and find it somewhere in Newton or within the Boston area."
Follow Autumn on Twitter @autumnn_hall.
Leave a Comment