Globe trotting Vice Pres discusses importance of international students
Article By: Derek Anderson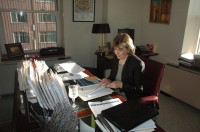 Marguerite Dennis, the Vice President for Enrollment, Retention and International Programs at Suffolk University, came to Suffolk in 1989, Dennis has put 20 years of hard work into the University and continues to do so everyday.
Born in Brooklyn, Dennis started working at St. John's University at the age of 17. She has been working in her area of expertise for 42 years now.
"I'm responsible for all the enrollment of the University except the law school," said Dennis.
Dennis also deals with the international programs, traveling all over the world to find students to attend the University. When Dennis first started working at Suffolk in 1989, there were 34 international students. This year, there are 264 new international students adding to make a total of 1027 enrolled international students altogether.
"Having international students here increases the diversity of the university," said Dennis.
Dennis said she's been traveling internationally since 1993 along with a team of others, including some graduate students.
"We're not just a Massachusetts school anymore. We used to be, but not anymore," said Dennis.
Through all of her travels, Dennis has had quite a few experiences. She recalled one of her best experiences was in Taiwan, when she spoke to a student's father. The father told Dennis that it would be a miracle if his son graduated, since he had trouble at numerous other schools. His son eventually attended Suffolk and graduated from the University. Dennis said the son came up to her after graduation and made the remark, "I guess we both witnessed a miracle." Dennis said it was a great experience.
Another experience Dennis recalled was when she spoke in Vietnam. She was one of two keynote speakers for a private university in Vietnam. Dennis said she felt like she was a representative of America, as there was only one other speaker was from the United States besides herself. It turned out he was also from Brooklyn and that they were born around the same time. Dennis said that they both remarked that they couldn't believe how far they had gone with their lives.
"As big as the world is, it's just as small," said Dennis, looking back to the event.
Doing this type of work was something Dennis always saw herself doing. Starting out just from Brooklyn, Dennis now travels all around the world to places like China and Vietnam and loves what she does.
"Each day I learn something new," said Dennis. "With that you bring vigor to your job, a fresh outlook to your job. I wish that for everyone. [Students] are not interruptions in our day, that's why we are here. We're here to help."
Dennis continues to work for the University on the sixth floor of 73 Tremont St.
"I feel in some ways I still have more things I can learn," said Dennis. "I also feel there is still more I can give back."
Leave a Comment