Suffolk's annual Spring Fest will go on in virtual format for second year in a row
The spring semester will come to an end on a high note and bring together the community through Suffolk's 48th annual Spring Fest on Friday.
Suffolk's Performing Arts Office (PAO), which also just hosted its first remote murder mystery dinner, will use Spring Fest as a way to bring performance to the Suffolk community one last time this semester. There will be a total of 15 acts that are all broadcasted from remote locations. 
Each performer sent in a video of them performing at their homes or on campus to PAO ahead of the show. Its finale, which normally consists of a group on stage, will also be recorded beforehand. 
Hosts Mardochée Sylvestre and Pat Lovelace, both seniors, will bring a unique aspect to the show. 
Sylvestre and Lovelace pre-recorded their parts of the show with a live audience in attendance. 
"Having the live audience made it feel like a real rehearsal. It added a sense of normalcy," Lovelace said.
Co-host Sylvestre expanded on that, saying that the audience made it feel like real theater. 
"The difference is we did pre-record it, so if we forgot a line or something wasn't working like we wanted it to, we could go back and re-shoot," Sylvestre said.
Kathy Maloney, director at PAO and the director of Spring Fest, spoke about the tradition of the show and the changes they made to make it possible during the pandemic. 
"It's the longest running art tradition [at the university]," Maloney said. "The person who started it thought the Suffolk community needed a chance to come together and thought that art was a great way to do that."
In previous years, the show was hosted at the Royale nightclub with live performances and an art showcase, giving a chance for different art departments to display their work from the year. 
"While in the space, you would see and celebrate each other's art," Maloney said. 
Those who worked on this year's Spring Fest think it still embodies the spirit of Suffolk. 
"It incorporates the Suffolk energy, the people and places," Maloney said.
Spring Week has traditionally included activities such as Spring Fest to end the semester with an inclusive atmosphere. Over the last few years Spring Week has geared less towards students and has a larger alumni following, this year the performances bring the students back into play. The Spring show incorporates not only current students but alumni as well. 
For Sylvestre and Lovelace, this performance will be their last as Suffolk undergraduates. 
"It has become very important to me to fill up my time with things that are meaningful, and this one last thing with the PAO provides me with so much time, things and people that bring me joy," Lovelace said.
Sylvestre noted that her first performance was in her freshman year and that it began her college career off on a high note. 
"This felt like the perfect thing to end with, on a high note, with love," Sylvestre said.
The performance will be streamed on Zoom and simulcasted on the PAO Facebook Live page at 7:30 p.m. on April 23, which can be found here.
Follow Ashley on Twitter @AshleyFairchi14.
Leave a Comment
About the Writer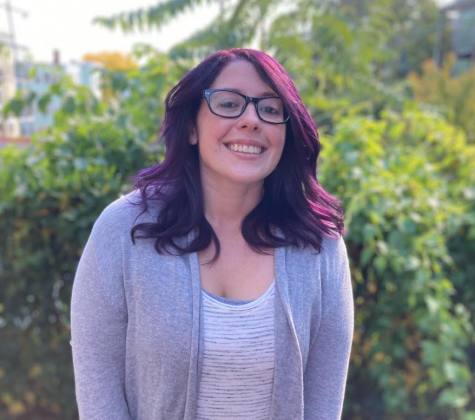 Ashley Fairchild, Asst. Copy Editor | she/her
Ashley
is a senior majoring in print/web Journalism. Outside of Suffolk, she can typically still be found with her nose in a book and her hand wrapped around a coffee mug. She enjoys lifting weights, finding new cafes and most importantly, playing with her dog, Pepper.
Follow Ashley on Twitter @AshleyFairchi14