Suffolk University Theatre Department's (SUTD) weekend performance of "Our Time" echoed the hopeful end of a brutal year and the start of better experiences. 
The three-night production featured a variety of original student work. Ranging from personal testimonies, monologues, short films and spoken word poetry to song, dance and puppetry,  students used the show to navigate how they felt during the pandemic. 
Each performance was pre-recorded to allow for more creative freedom. Some were filmed on campus whereas others were filmed at students' homes.
"Our Time" opened with a heartfelt introduction from Suffolk theatre professor Wesley Savick, who also directed and curated the show. 
Savick described the production as a way for people in the future to understand the honest experiences of Suffolk students from the crazy past year. 
"'Our Time' is our collective attempt to capture and preserve what it is like and eventually what it was like to live through this historic moment," Savick said.
What's different about this SUTD production is that it is now stored away in a digital "vault," which allows for it to be streamed in perpetuity for generations to come. 
The main themes from this production are repetition, isolation and stress/anxiety. These works ranged from highlighting the first six weeks of the pandemic to encapsulating these last few weeks of winter changing into spring.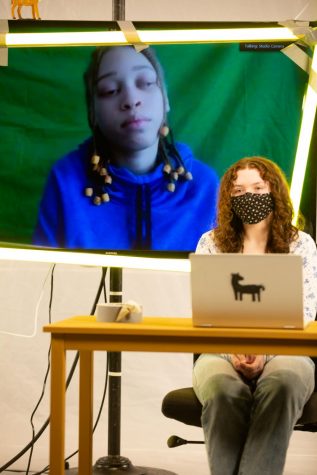 Students covered many complex and emotional experiences through creative methods. 
One showcased pre-COVID Boston in a nostalgic video, while another student strung her ukelele about the similarities of each day. In a touching testimony, a student detailed her experience becoming a mother during the pandemic and what it's like raising a child during these times. And in a short, comedic montage, senior Liv Joan showed off her cat, Goose, with the message that pets played a vital role in our lives during a year of isolation. 
Even the joyous Red Line commute over the Charles River, which all Bostonians seem to love, made an appearance in a short clip.
In a production about the pandemic, you could not forget frustrations with Zoom.
This skit was very relatable as the two friends kept speaking over each other and had lagging videos all while trying to hold a simple conversation. Zoom fatigue is very real, so it was refreshing to see it acknowledged in "Our Time."
One of the short films, "March," played with the concept of space and time during isolation. Director Justin Lahue symbolized repetition by having his actor, CJ Voteur, tally up the days of quarantine while being confined to a box. 
This film was shot on a small set outside of Lahue's New Hampshire home and featured a combination of time lapses, closeups and percussive soundscapes to represent isolation and the passing of days. 
"When prompted with an opportunity to create pieces about the past year, I instantly went to this more intangible fight I've been having with time," Lahue said. 
Other truths featured in "Our Time" include arguments with roommates, finding yourself during isolation, dating, binging TV shows, discussing pop culture moments, celebrating birthdays over FaceTime and the delightful pandemic walks that dominated the first few weeks of quarantine.
Living through this historical time surely is like being in the movie "Groundhog Day," as referenced in one of the testimonies, and it was so valuable to hear each student express their story.
Once the pandemic ends and we reemerge into society, it may be difficult at first to listen back to these troubling times of deja vu. Perhaps further down the road, we can view this accurate portrayal of quarantine life with ease. 
Seeing is believing because words will never properly convey these moments. You will just have to watch "Our Time" for yourself… maybe a day, a couple of months, or several years from now. When you're ready, it will always be available to watch on Vimeo here.
Follow Sarah on Twitter @thesarahdipity.