"I Care a Lot" divides audience with dubious ethics
Following the release of "I Care a Lot" on Feb. 19 – and the negative reviews swirling online – the movie was No. 2 on Netflix's top 10 in the U.S. on Feb. 26. However, the rating was not an accurate depiction of the film. Most of the rankings on Netflix are determined by popularity, not by the quality of the film. 
Starring Rosamund Pike and Peter Dinklage, and directed by J Blakeson, the talented cast created a suspenseful tale with action-packed drama. Unable to decide who was the protagonist in this film, it left viewers hooked until the very last minute. 
"I Care a Lot" follows a manipulative caregiver, Marla Grayson, who is appointed as a legal guardian by the state to those who can no longer care for themselves. With questionable ethics, she books them into senior care facilities and profits from the sale of all of their belongings and homes. 
This time, she has picked the wrong "perfect cherry," and ends up on a chase to find out who Jennifer Peterson, her new ward, really is, and why the Russian mafia is suddenly targeting herself and her girlfriend, Fran. Led by a thirst for money and power, Grayson refuses to give up, despite multiple attempts on her life.
The dubious methods Grayson uses to procure her fortune made her unlikeable for many viewers. After all, it is difficult to feel bad for someone who sends elderly people to care facilities against their will just to take all of their possessions. Negative karma affects Grayson's life, as she finds out firsthand when taking guardianship of Peterson. 
The film leaves the audience with no one to root for in a sometimes laughable plot, where characters inexplicably escape drowning in a car while drugged and dying from gas inhalation.  
Controversial actions aside, the film's take on making two of its main female characters a lesbian couple just didn't sit well with many critics of the film. It is amazing and important to see more representation of lesbians in film, but the way that it was included in this movie was stereotypical of many LGBTQ films.
Some of these scenes follow negative Hollywood troupes that a female character can only be powerful if she is not straight and that lesbian love scenes are used just to sexualize the female characters. This depiction of her sexuality just didn't click for viewers, with several more-than-chaste kissing scenes being used just to showcase sex and doing nothing to advance Grayson as a character, nor lending itself positively to the plot. 
Other media that tackled the issues of negative stereotypes surrounding "boss girl" lesbian moments was the television series "Ratched," released on Netflix in 2020. Sarah Paulson played a lesbian woman, but that was directed in a way so that her sexuality was not used just for the sake of sex-fueled scenes or conveying stereotypes. Her boss moments came from tense situations, dealing with crises in a smart way, and portraying the demure-yet-powerful character that defied negative stereotypes in that era. 
In comparison, "I Care a Lot" made Grayson's sexuality a character trait that influenced her prowess as an influential businesswoman, as her lover was her business partner, as well. 
But Hollywood saw past this when on Feb. 28, Pike won the Golden Globe for best performance by an actress in a comedy or musical for her role as Grayson.
A more logical plot and less cringe-worthy moments would make this film more pleasing to many people, but part of the shock factor, as we know, is what brings in more views.
Follow Ainsley on Twitter @ainsley_miles. 
Leave a Comment
About the Writer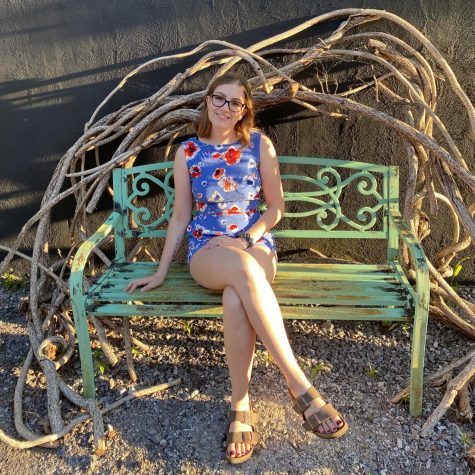 Ainsley Miles, Staff Writer | she/her
Ainsley is a senior majoring in print/web journalism and minoring in environmental studies from Goffstown, NH. Besides wanting to educate more people about environmental issues, she enjoys all things makeup, loves to bake and relaxes by going fishing or spending time with her two horses. After graduation, she hopes to advocate for climate policy and environmental justice across the globe.
Catch up with her on Twitter @ainsley_miles