Experts examine Biden's first 100 days during Ford Hall Forum
Experts discussed what actions President Joe Biden will take during his first few months in office, and what the change in administration means for the country, during the Feb. 11 panel titled "Fixing What's Broken: Biden's Equity Agenda."
The discussion is the third week of No. 46: Examining the First 100 Days of the Biden Administration, a lecture series hosted by Suffolk University's political science and legal studies department, The Ford Hall Forum and Boston radio station WGBH that will analyze Biden's early months in office.
White House correspondent and Playbook co-author of POLITICO, Eugene Daniels II moderated the panel, opening up with the question of what the difference between equity and equality is to the panelists. All of them came up with a similar answer of the difference between fairness and equity.
"Oftentimes when people hear the word equity, they think we are talking about everyone getting the same outcome [or assistance]," Johnson said. "Equity is about leveling the playing field so that everyone's efforts gets them what they worked for and doesn't require some folks to work extra hard."
Assistant professor of public policy at the University of North Carolina at Chapel Hill, Dr. Rebecca Kreitzer, spoke on how reversing Title IX regulations made by the Trump administration will cause policy changes across college campuses nationally. A Biden administration executive order is expected to pass in the coming months of his presidency.
"Once an executive order is in place it directs lower-level agencies all the way down to Suffolk University on how to implement certain [policies]," she said.
Kreitzer continued by explaining how rewriting and implementing different policies that have only existed during the Trump administration takes a lot of time, and executive orders just undo policy rather than pushing forward new legislation.
The panelists continued speaking on the different anticipated executive orders from the Biden administration rumored during the first 100 days, the pandemic being the first priority during the Biden campaign.
COVID-19 significantly changed the campaigning strategies during the 2020 election.
Professor Ted Johnson of New York University Law School spoke on how COVID-19 vaccines make it easier for politicians to win elections, since it allows them to tell the general public what they want to hear about COVID-19 vaccines and regulations, rather than the reality of the inequity of vaccine distributions.
"What politicians are good at doing is pointing out unfairness or perceived unfairness and then leveraging that anxiety and that dissatisfaction for votes in order to win elections," Johnson said. "It's almost as if the tension in the system is good for fundraising and good for winning elections, and solving problems is good for the people but maybe not for your prospects."
Associate professor at Northwestern University, Dr. Geraldo Cadava spoke on the possibilities of extensive reform through Biden's administration.
"I don't know if we are on the brink of something truly transformative and progressive," said Cadava. "I think that there is a reason for optimism because of the strength of the statements that have been made so far, but there is still an element of 'let's wait and see what happens.'"
Biden was known as the more moderate candidate back in the democratic primaries, and has since been thought of as a progressive democrat. Because of the recent shift of the Senate and White House shifting to democrat control, and maintaining its power in the House, states rights advocates have tried to push more conservative policies through the government in order to gain more control.
"There is often a backlash," Kreitzer said. "Now that the federal government is controlled by democrats, there are actually more republicans in state legislatures, and I think that we should anticipate that there is a more restrictive policy introduced in the states because of the more liberal policy at the federal level."
"In six or seven different states this week, there was anti-trans legislation introduced," Kreitzer continued. "That's at a high rate, and why is that? It's because of what is happening in the federal government."
Follow Dani on Twitter @molwebber
Leave a Comment
About the Contributor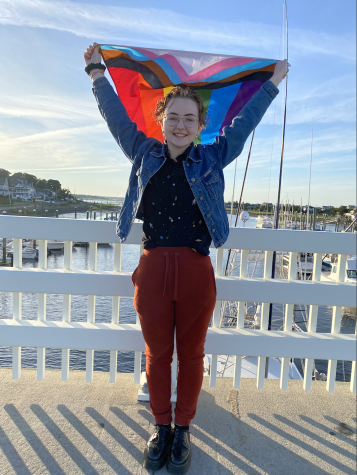 Dani Webber, News Editor | they/them
Daniel is a junior pre-law major with a journalism minor at Suffolk University. When they aren't writing, you can find them walking on the beach, thrifting or watching the dogs play in Boston Common. In the future, they hope to be a paralegal and author.
Follow Dani on Twitter 
@MolWebber
Email them at 
[email protected]