Following students' return from winter break, Suffolk sees spike in COVID-19 cases
Suffolk University has reported 39 new COVID-19 cases since residential students' officially returned to campus on Jan. 19, according to university testing data last updated on Feb. 3.
Since The Journal last published a COVID-19 update on Dec. 8, Suffolk has reported a total of 82 positive COVID-19 tests. This number includes 19 positive tests from Dec. 20 to Jan. 18, during which most students were home for break.
Upon their return to campus, students living in Suffolk's residence halls or hotels were required to quarantine until they received two negative COVID-19 tests from the university's on-campus testing site.
Suffolk's COVID-19 data page only includes on-campus positive test results in its total case count. The Journal also includes the number of cases identified at off-campus testing sites, which is also listed on the university's data page.
As of Feb. 3, the university's seven-day positivity rate was 0.457 percent. On the same day, Massachusetts seven-day average positive test rate, which was 3.3 percent as of Feb. 9.
Since residential students' return to campus, Suffolk has conducted a total of 6,225 COVID-19 tests. Since the Journal's last COVID-19 update was published, the university has conducted a total of 11,462 COVID-19 tests. These tests bring Suffolk's total number of tests conducted to 51,406, excluding tests that were reported as invalid.
Leave a Comment
About the Writer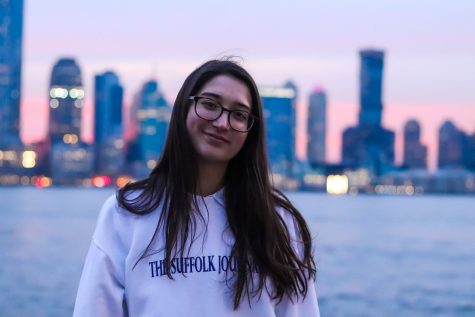 Grace Dreher, Asst. World News Editor | she/her
Grace is a sophomore journalism major with a Print/Web concentration from Lanoka Harbor, New Jersey. When she isn't writing, you can find her at track practice, exploring Boston or listening to music. Grace is also very passionate about politics and after college she hopes to work as a journalist and travel. 
Follow Grace on Twitter
@egracedreher