Dustin Pedroia announces retirement
After 14 seasons in the Major Leagues, Red Sox second baseman Dustin Pedroia announced his retirement on Feb. 1.
The announcement came following a season where Pedroia didn't play a single game, as he had been battling knee injuries. He had only played nine games since 2017.
When he was healthy, Pedroia was one of the Red Sox' most dominant players, setting numerous franchise records.
Pedroia began making an impact during his rookie season in 2007, winning the American League Rookie of the Year as the team captured a World Series title. During this run, he set a rookie record of five RBI's in an ALCS game and became the first rookie to hit a leadoff home run in the World Series. 
Pedroia was also an instrumental part of the Red Sox' 2013 championship run, as he was named an all-star and won a Gold Glove Award as the best second baseman in the American League. 
Pedroia's best career performance came from his sophomore campaign in 2008, when he became one of only two second basemen in baseball history to earn an MVP, Gold Glove and Silver Slugger Award in the same season. During this season, he set franchise records for second basemen in batting average, runs, hits, doubles, total bases and extra-base hits. 
That same season, Pedroia became the only second baseman in Red Sox history to eclipse 100 runs and 200 hits in a season, a feat that he would repeat in 2016. He also became one of only four Red Sox players to record 200 hits and 50 doubles in a season.
Pedroia's four Gold Gloves are the most ever by a Red Sox infielder. He also holds the franchise record of 114 consecutive errorless games. 
Although Pedroia's retirement was announced by the Red Sox over social media on the morning of Feb. 1, a press conference was held that afternoon.
"I look back and think how lucky I was for all of it," Pedroia said, reflecting on his career. "Every day I woke up looking to find a way to help our team win a baseball game, and I got to do it in front of the best fans in the best city."
A number of Pedroia's former teammates also took to social media to congratulate him on a great career. 
"Salute to my former teammate and friend Dustin Pedroia on your retirement," said Ex-Red Sox player Mookie Betts. "Thank you for the countless times you poured into me about the game of baseball. I appreciate you! Congratulations! Now enjoy life after baseball."
Red Sox legend David Ortiz said, "Happy, thankful, grateful and proud to have been your teammate for so many years. Memories are forever. Thank you Dustin aka pewee, love you and enjoy your retirement."
Even the Patriots tweeted, "One of Boston's best. Congrats to Dustin Pedroia on a great career!"
While Pedroia's knee injuries may have cut his chances short of getting into the Hall of Fame, his contributions to the game will forever be remembered by the Red Sox and their fans.
Follow Jamie on Twitter @JamieTaris
Leave a Comment
About the Contributor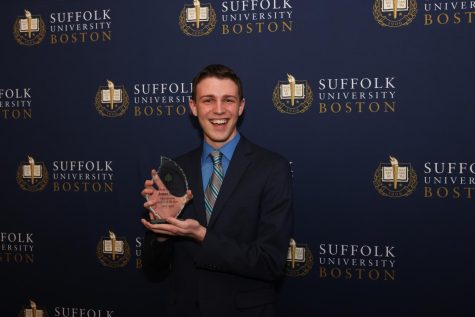 Jamie Taris, Managing Editor | he/him
Jamie is a senior broadcast journalism major and public relations minor from Pelham, New Hampshire. He has a deep passion for sports, especially hockey and football, and hopes to one day be in the sports media field. When he's not obsessing over the latest sports news, you can usually find Jamie hiking or camping in the White Mountains, or spending time with his friends and family.