Suffolk sees highest COVID-19 positivity rates following Thanksgiving break
Suffolk University saw its positivity rate pass 1% for the first time this semester, and reported a total of 35 new COVID-19 cases over the last two-and-a-half weeks.
Suffolk reported 11 positive results from Nov. 21 to Nov. 27, 15 cases from Nov. 28 to Dec. 4 and nine new cases from Dec. 5 to Dec. 7. 
These cases brought the university's total number of positive cases for the Fall semester to 132.
Suffolk's COVID-19 data page only includes on-campus positive test results in its total case count. The Journal also includes the number of cases identified at off-campus testing sites, which is also listed on the university's data page. 
On Dec. 7, the university reported eight positive test results, Suffolk's largest daily increase, tied only by the eight cases reported on Oct. 22. 
As of Dec. 7, Suffolk's seven-day positivity rate was 1.131%. The university has maintained a positivity rate above one percent from Dec. 5 to Dec. 7, the last day data was reported at the time of this article's publication. 
The university's overall positivity rate has climbed from 0.217%, which was reported on Nov. 20, to 0.277%, which was reported on Dec. 7. 
According to the page, all symptomatic individuals are tested at off-campus testing sites. 
As of Dec. 7, Massachusetts' seven-day average positivity rate was 5.5%. 
From Nov. 21 to Dec. 7, Suffolk conducted a total of 4,207 tests. As of Dec. 7, the university has conducted a total of 40,140 tests. This number excludes tests that were reported as invalid.
Follow Grace on Twitter @gracedreher_
Leave a Comment
About the Writer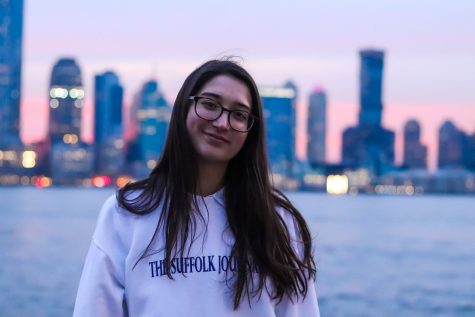 Grace Dreher, Asst. World News Editor | she/her
Grace is a sophomore journalism major with a Print/Web concentration from Lanoka Harbor, New Jersey. When she isn't writing, you can find her at track practice, exploring Boston or listening to music. Grace is also very passionate about politics and after college she hopes to work as a journalist and travel. 
Follow Grace on Twitter
@egracedreher