Five fun activities to do this winter in quarantine
COVID-19 cases in Boston are on the rise and are only expected to increase as the city prepares for the harsh winter ahead. Even though it may seem that this season will just be a boring and cold time at home, there are actually plenty of fun things to do to stay sane while in quarantine. Here ere are just a few:
Reinvent your favorite holiday baking recipes
An oldie but a goodie, baking during the winter is the perfect pastime and also gets everyone in the holiday spirit no matter what you're celebrating. Because it looks like most of this winter will be spent indoors, people will have plenty of time to make delicious foods and spend quality time with one another.
All of the upcoming holidays involve classic dishes to enjoy. However, it's always fun to try new things, and cooking up some feel-good dishes during a winter quarantine would be the perfect opportunity. So, instead of pulling out the cookbook from years past, try to whip up something new. If it fails, try again. There will certainly be  time for it. 
Add a new Christmas cookie to the list with this recipe for pumpkin cookies with browned butter frosting, or these holiday macaroons that are sure to please any family member. For some new savory options, try this garlic mashed potato as a side to the main course, or a lobster mac and cheese to switch up the traditional pasta dish. 
At home Winter Olympic Games
When you need a break from the warm indoors, many look forward to going outside and enjoying all that nature has to offer. However, this year the ski slopes and ice skating rinks are not the safest option and will have limited space if open. For example, the Frog Pond ice skating in Boston is not opening this season, which usually serves as a fun family outing. 
Nonetheless, the backyard is just as good of an option and allows for more creativity. When snow finally falls again, set up some competitions such as snow ball fights, snow fort and snowman building, sled racing and more. 
Keep score between family members and friends and see who comes out on top as the winner of your Olympic Games. Instead of a medal, their prize can be a sweet hot chocolate to warm up with inside.  
Set new goals for 2021
With the new year just around the corner, this winter is the perfect time to find a journal and write down some plans and resolutions for 2021. After the stressful and trying year of 2020, reflecting and focusing on some thoughts for next year could be just what is needed to stay sane.
If you weren't able to get everything done this year, as so many were with the initial quarantine and new safety guidelines, write down some hopes for next year to feel more accomplished and secure. 
Even though the status of COVID-19 is still unknown for 2021, putting words to paper about what you plan to get done is satisfying and shows determination. And what better place to add some journal notes than  cozied up next to a fire?
At home self care
Once the holidays are over and January and February roll around, it can feel bleak and as if the warmer weather will never come. This might be especially true this winter season while in quarantine, so it is important to find a way out of that rut. 
A self care day is the perfect solution and can be done entirely at home no matter what the agenda includes. Some options to help de-stress and reward yourself are taking a hot shower or bath, spending the entire day in bed catching up on movies and shows and making a yummy dessert or snack to enjoy.
All of these combined with plenty of rest is the best way to recharge after the holidays. Having a self care day at least once a week, if scheduling allows for it, is important in maintaining a connection with oneself, and therefore is key in staying balanced.
Eat dinner somewhere other than the dining room table 
Living in quarantine, it may feel like the only thing to look forward to is the next meal of the day. So, instead of having the same old dinner in the dining room, try some different ideas to make the meal more entertaining.
Some ideas could be to set up a picnic in the living room and eat there to switch up locations, or do a different type of food every night, where Monday can be Chinese, Tuesday Mediterranean and so on. 
The members of your household could also have a theme each evening and dress accordingly. On Wednesday, everyone could dress up as their favorite television character, Thursday everyone dresses up as each other and Friday is an invention of your own.
Switching up the mood for any meal of the day can turn a boring time into a fun one and it can all be done while staying at home. Use this idea to stay sane and to put some variety back into your life.
Follow Roxanne on Twitter @roxsnowden.
View Comments (1)
About the Writer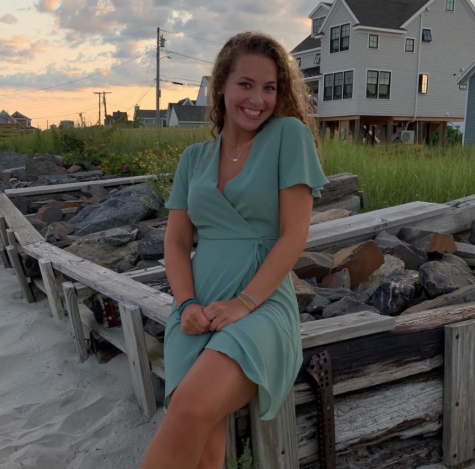 Roxanne Snowden, Staff Writer | she/her
Roxanne is a senior from Litchfield, Connecticut and is a broadcast journalism major. She enjoys spending time with family and friends, going to concerts, trying new restaurants and singing. Different from her small hometown, Roxanne loves being in the city, and one day hopes to work for ESPN and report on the sidelines of an NFL Super Bowl.

Follow Roxanne on Twitter @roxsnowden