Tough early schedule will test Rams' grit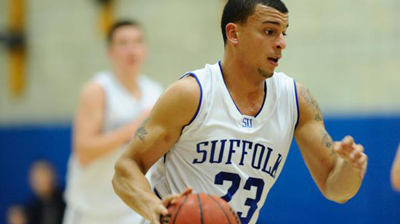 Alex Hall
Journal Staff
The 2009-2010 season for the Suffolk University men's basketball team may have been one to forget statistically, but in many ways it allowed this year's starting roster time to develop.
The Rams struggled last season, having finished last in the conference with a 2-16 record. This is clearly something that Head Coach Adam Nelson wishes to change this year with his "bigger, stronger and more mature group" from a season ago. This squad will be tested early and often on their home court, which Nelson stated, "We need to get off to a good start." They play seven of their first 10 games at Ridgeway to start their 2010-2011 campaign.
The Rams will look to start this early slate of games off with a win against conference opponent Eastern Nazarene on Nov. 16. Nelson explained that this could be a statement game for a team that wishes to make a statement to start off the season. This will clearly be an improved squad from last season, as the group clearly gained a lot of tough, game experience. Eastern Nazarene will be the first of two home games that the Rams will play before heading off to the New England College Tournament in New Hampshire; the very same tournament they won just a season ago.
"The first round will be tough. NEC is good, especially on their home court," Nelson said when asked about the team's first tournament of the season. "The competition will be way better than last year."
The team's first four games will give the Rams an opportunity to polish their skills before going through the tough part of their schedule, which includes non-conference powerhouses such as MIT, Daniel Webster and Eastern Connecticut State. Nelson said the reason behind this is that he "doesn't want to play any cupcakes."
And these non-GNAC foes are certainly no cupcakes. This rigorous non-conference schedule will showRams' fans if their team can hang in with some of the best in Division III basketball.
Despite games against such big name teams outside of the GNAC, the intra-conference games will always be the most important games to win during the season. This is a conference that Nelson admits has gotten considerably better since last season.
"Albertus [Magnus] is loaded; they'll be nationally ranked," Nelson explained. "Umass' point guard from a season ago is now playing for Mt. Ida. People say that Emerson will be down this year, but I don't buy it. They have a great defense and they play so hard."
The Rams will have to play solid basketball against some tough non-conference opponents, because once the calendar flips to 2011, their remaining schedule is only against teams in the GNAC.
Needless to say, the men's basketball team is hoping to make a statement this year. In addition, they'll have to upset a few of those non-conference foes, as well as maintain a respectable record inside the conference, if they wish to find themselves involved in postseason play. Nelson has pretty high hopes for this year's squad. It will be interesting to see what improvements, if any, they make coming into a new season.
"We need to make the playoffs; if we make it than anything can happen," he said. "If we get on a three-game winning streak, we'll be in the NCAA tournament."