A glimpse into life at One Court Street
This fall, approximately 100 Suffolk University freshmen were able to move into the school's newest residence hall: One Court Street. So far, the reviews from residents have been pretty positive.
Suffolk purchased the property, formerly known as the historic Ames Hotel, in 2019, and has since  converted the building into dorms.
It's now been about a month since residents first moved in, and most of them are enjoying their experience so far.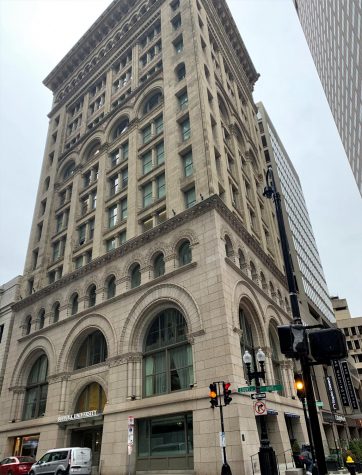 Resident Christina Reid shared her thoughts about living in Court Street thus far.
"The building is beautiful and everyone is so sweet. I've met so many kind people and it's truly the best!" said Reid.
The Ames Hotel was known for its unique, detailed architecture, which Suffolk kept as the building was renovated. One of the Resident Assistants, Emily Boyle, spoke about the impressiveness of Court Street.
"The building itself is beautifully historic," said Boyle.
Many Court Street residents also love the location, which is right near Downtown Crossing and just steps away from multiple T stops, such as State Street and Government Center.
"It's amazing. The location can't be beat," said resident Liv Sargent.
So far, the RAs are pleased with how residents have been handling themselves as they navigate their first semester of college with COVID-19.
"The Class of 2024 has done a good job so far respecting the policies that are in place to keep us healthy, while still making connections and having fun," said Boyle.
RA Sophie Mailhot has noticed that residents are very conscious of their actions and are holding others accountable.
"I was really worried about students staying safe and assuming responsibility for each other but so far there is a large community of people looking out for others," said Mailhot.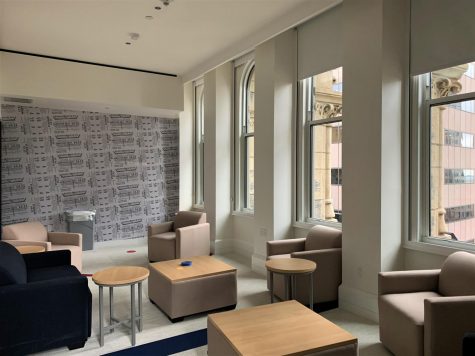 One of the downsides of living in an old hotel was the isolating layout of the floors, especially when most residents at Suffolk don't have roommates due to the pandemic.
There are only about ten rooms per floor, and there are many short hallways, meaning people don't really walk by your door and say hello.
"It can be a little hard to meet people since it used to be a hotel. There are no apartment style dorms where three or four people share a common space or a kitchen or anything," said Marie Kohlenberg, who lives in the dorm.
"I dislike how a lot of people just stay in their rooms, because I want to meet others! I love people!" said Reid.
Although the layout can be isolating, both Reid and Kohlenberg commented on the fact that the RA's in the building have made them feel very welcomed and have put in a lot of effort to hold programs to allow residents to get to know each other, such as Bingo and Paint Night.
Kohlenberg also spoke about the fact that it has taken a long time for Suffolk facilities workers to fix broken items in their dorm rooms.
"I had a leaking issue in my room and my shower didn't work. It took about three weeks for them to fix so I had to move to another room during that time," she said, "I have heard from many people that their AC isn't working or that they don't have hot water. I feel like there is a lot that has to be fixed in this building."
Another downside to living in One Court Street, according to residents, is that there is no kitchen area in any of the dorms or lounges. Most of Suffolk's other residence halls have shared kitchens near lounges, but Court Street residences do not have access to that, meaning they can't really cook.
"I really miss having a kitchen because I like to cook," said Kohlenberg.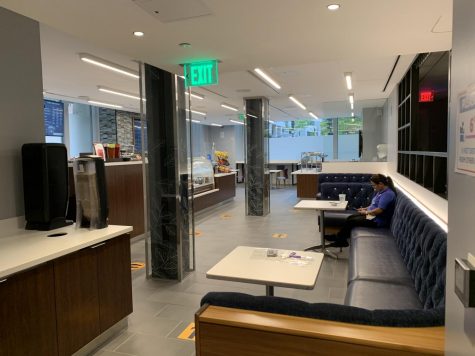 Construction was also still being done inside the building when students first moved in. Currently, there are nets being put up in the staircase and the inside of the elevators was just remodeled. Residents eagerly waited for the completion of the Court Street Cafe, which was just completed and opened last week. They can now enjoy Starbucks drinks and quick grab-and-go items, like sandwiches and pastries.
Residents look forward to enjoying all of the features of their new residence hall now that it is fully completed.
Follow Grace on Twitter at @GraceM123456.
About the Contributor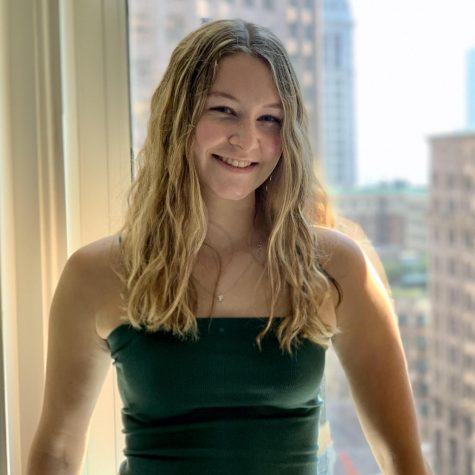 Grace MacDonald, Asst. Copy Editor | she/her
Grace is a sophomore from Seekonk, Massachusetts, majoring in public relations. Besides having a passion for writing, she also enjoys listening to Taylor Swift, watching movies, and exploring the city. She also loves to travel. After graduating, she wants to work for a PR firm or in social media management.
Follow Grace on Twitter
@GraceM123456