The annual Involvement Fair goes on tour
As COVID-19 restrictions govern the way social gatherings look on and off campus, the Suffolk University Office of Student Leadership and Involvement (SLI) had to modify its annual Involvement Fair. Despite this change, students are still looking for ways to stay involved.
The Involvement Fair is normally a one-day event that takes place in the Boston Common.
"We have all of the Suffolk groups show up. It's usually close to 107 groups. We have giveaways and food and it's honestly like a party. It's a true community event at Suffolk," said Kelsey Johansen, assistant director of SLI.
As many as 2,500 students have attended the event in years past, according to Johansen.
Due to the restrictions implemented to stop the spread of the novel coronavirus, an event like that was not feasible this year. As mandated by one of Massachusetts Governor Charlie Baker's COVID-19 executive orders, outdoor gatherings cannot be larger than 50 people.
SLI decided to spread the fair between multiple days, with roughly nine groups present each day. Each Tuesday and Thursday during the month of September, students were able to sign up for individual meetings with a representative for the groups they were interested in. Once students arrived on the third floor of the Sawyer building, participants had to swipe in to the event with their student ID for contact tracing purposes.
"We're also using disposable table cloths and encouraging groups not to hand anything out to reduce transmission possibilities," said Johansen.
Students also had the option to meet with groups virtually through a platform called AirMeet. Once they logged on to the site and entered some basic information, they could click on a virtual table, which opened up a private video chat with a specific group.
According to Johansen, about 300 students have attended the event in person this year, while 160 attended virtually.
"Turnout is lower, but we've seen less traffic on campus in general and students are also taking advantage of the event online," said Johansen
Jasmine Mohit, a member of the club Unspoken Feelings, understood the difficulties of the fair this year for students.
"People's schedules interfere and you don't get a lot of time with each club. You don't get to see every club because there's only a few at a time," said Mohit.
Despite the changes, Suffolk students are still getting involved.
"There's not as many people walking by as there would be in the Common, but, at the same time, from my administrator perspective, I am so impressed with the level of engagement and how interested students are," said Dennis Harkins, administrator of the Center for Community Engagement.
Almost all of the groups at Suffolk are meeting virtually now, but they hope to get together in-person soon.
"We are trying to figure out how to do some in-person programs, like in-person debate watch parties, and maybe as we get closer to the spring, maybe we'll be able to meet in groups," said Harkins.
"A couple clubs meet socially distant in the Common or rent a room for a few hours. Unspoken Feelings hopes to do that at some point," said Mohit.
Unspoken Feelings also hopes to host a talent show later this year, as last year's show was cancelled due to COVID-19. The virus may have put a halt on group gatherings like this for now, but the community atmosphere at Suffolk lives on.
Follow Grace on Twitter @GraceM123456
About the Writer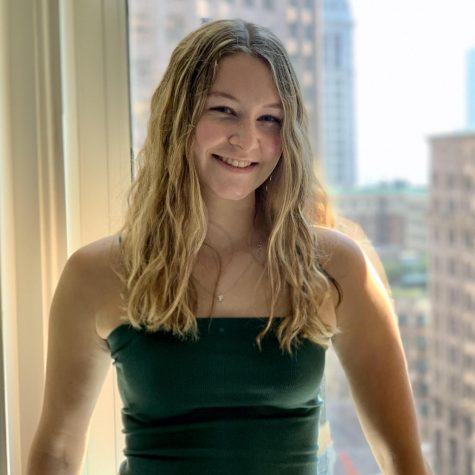 Grace MacDonald, Asst. Copy Editor | she/her
Grace is a sophomore from Seekonk, Massachusetts, majoring in public relations. Besides having a passion for writing, she also enjoys listening to Taylor Swift, watching movies, and exploring the city. She also loves to travel. After graduating, she wants to work for a PR firm or in social media management.
Follow Grace on Twitter
@GraceM123456