Unspoken Feelings gives students space to let loose with hip-hop and comedy
Unspoken Feelings held their first ever "Ram 'N Out" event which mirrored the popular MTV hip-hop comedy show "Wild 'N Out." Anye Nkimbeng, Unspoken Feelings club president and MC for the night, was reminiscent of the charismatic MTV host Nick Cannon, but definitely brought his own flare to the mic. Held in the Samia Cafe, the club set up a stage in front of a large screen which displayed rules and clips from the series.
"We've had open mics, but we wanted something new to do before our regular open mic," said Nkimbeng in an interview with The Suffolk Journal. "We thought about karaoke or a singing competition but it's been done before, and then we thought 'Wild N' Out,' and we asked our members and that's what they wanted to do."
The night started with seven audience members volunteering to break into two competing teams who would go head-to-head over several rounds of comedy challenges. The live game show consisted of members from each team cracking a joke or spitting a rhyme to make audience members laugh. The challenges consisted of a number of games including "Guess the Celebrity," "Family Reunion" and "Wild Style."
"I was very nervous [to volunteer] but a part of me was like, do it, because it should be fun 'cause it was just a night of fun laughs and just enjoying each others company," said sophomore art history major Ariana Peralta in an interview with The Journal. "I was hoping they would use volunteers so I could go up there."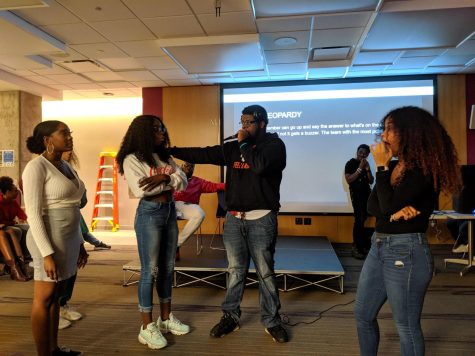 Ben Pompilus, a Suffolk alumni and local DJ, was spinning popular tracks and judging each competition. If the audience laughed and Pompilus thought the joke was funny, the team would get a loud "ding." However, if the joke was not funny, an unpleasant buzzer would sound.
"It was fun, the reactions were dope, I expected some backlash because some [of the jokes] weren't great, they could've been better and I had to be honest," said Pompilus about judging the competition.
The first challenge was "Guess that Celebrity." In this round a member from each team would sit on the stage facing the audience and images of celebrities would appear on the screen behind them. The other team members stood in front of the stage acting out and giving hints to who the celebrity was while their teammate on stage tried to decipher their clues. Some of the stars that flashed across the screen included Drake, Bill Clinton and Britney Spears.
This first game got the crowd more lively and loosened up the two teams, from here the jokes started to fly.
"It gives a sense of not being so sensitive and especially with society nowadays you can't be sensitive to everything and this makes the whole environment no hard feelings, just a good time and a kind of satire," said Peralta.
By the time the game "Family Reunion" was ready to be played, the audience was fully engaged, clapping and singing along to the lyrics. Members of each team would pick someone out of the crowd and to the tune of "At the family reunion, who we introducing?" make a joke by introducing the person in a hilarious way.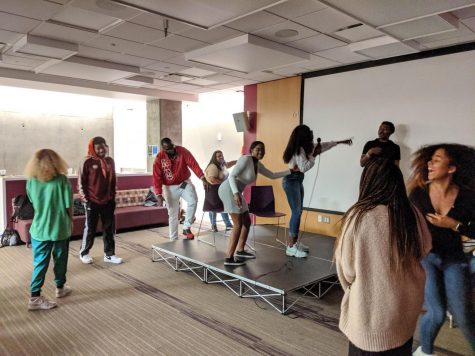 Another game featured props: a wet floor sign and ladder, that the teams used to act out quick skits they thought of on the spot. The hijinks that ensued were comical and the improv was impressive.
"My jokes come from sarcasm, and sarcasm usually is not on command, so having to think of jokes on command was kind of hard," said Peralta.
The final test of humor and wit was the Wild Style. In this last round contestants traded hysterical punchlines and clever comebacks in a face to face rhyme-off. The contestants packed some loaded jokes, but it was all in good fun and no one seemed to mind light-hearted roasts.
"We can chat it up, we can laugh I understand the world is serious and there's crazy stuff going on outside but if you can't laugh at your pain sometimes your only going to be getting hurt each time," said Nkimbeng.
Leave a Comment
About the Contributor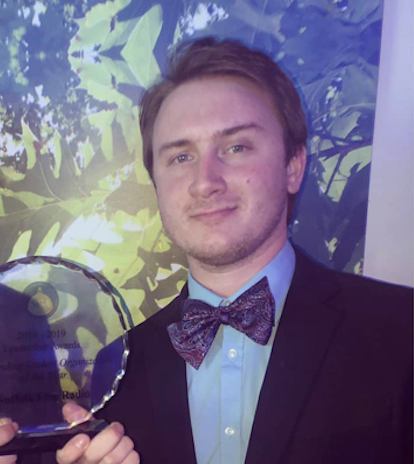 Eddie Reinhardt, Arts Editor | he/him
Edward Reinhardt is a broadcast journalism major and public relations minor who has a passion for writing. Born and raised in Massachusetts, Boston offered a chance to get out of the suburbs while staying close to family. He enjoys covering concerts and interviewing artists and hopes to one day make a career of it.