Men's soccer captains leading team to final stretch
As the 5-7-1 Rams head into their final games of the season, their record isn't deterring them from making a final playoff push.
The team, which is led by captains Jackson Hines, Simon Velez Angel, Christian Restrepo and Jarett Davis are currently riding a two-game winning streak with four games left on their schedule. Despite holding eighth in Great Northeast Athletic Conference (GNAC) standings with a conference record of 3-4, the captains are far from deterred in their playoff hopes.
The Rams believe their hard work will separate themselves from the competition.
"We will continue to work hard, and I believe this is what will separate us from other GNAC teams making a postseason run," said Hines in an interview with The Suffolk Journal. "We have established a 'next-man-up' culture, driven towards giving 100% effort at all times on the field."
Hines was a GNAC All-Sportsmanship Team selection his sophomore year, while starting all 17 games.
While their team culture pushes them forward, the Rams face circumstances that they have struggled with all season. Two out of three of their last games are away and the team is 1-4-1 on the road this year. The Rams view this as a test, but they say it's just another challenge they will have to push through.
"Being away from home is always a hard task but this group has gone through a lot this season and I'm sure we'll be able to battle through a few more obstacles and hopefully get that home field advantage for the playoffs," said Restrepo in an interview with The Journal.
Restrepo was an all GNAC third team selection his freshman year, and a second team selection his sophomore year.
Considering that his teammates play has earned them various accolades and helped get the team to where they are now, Hines is confident in his team's abilities despite the team being under .500 at this point in the season.
"I believe our team will respond positively given our circumstances in postseason seeding," said Hines. "We are focused on getting as high a seed as possible in our playoff run, so we will be focused on getting results whether it be on our home field in East Boston or at another school."
Each captain has their own strategy for leading the team during such strenuous times.
"Being a captain this year obviously hasn't been the easiest but these guys make it worth it. It's been difficult at times to keep the team and ourselves focused but I think we've done a pretty great job and we hope it'll show in the end, we definitely have the tools to make it happen," said Restrepo.
Hines added that being a captain, his main focus is to have the team stay committed to controlling what they can control, and responding positively to situations that might not go their way and are out of their hands.
As the season nears its end, so does the soccer career of all four senior captains. As their senior day approaches, the captains took time to reflect on their Suffolk soccer experience.
Hines said it is bittersweet that his Suffolk soccer career is almost over. He said the program has given him the opportunity to play the game he loves with the people he loves. He added that the coaches and athletic staff have been huge parts of his Suffolk experience.
Restrepo said that Suffolk soccer has given him an experience that would be impossible to have anywhere else. He says every teammate and coach he has been around has shaped him into his current self. He hopes he can leave a mark that will last for years to come.
Both Hines and Restrepo are incredibly grateful for the opportunity to be captains.
"The experience I have had during my years as a captain has shaped me into the person who I am now, thanks to the extraordinary people I have surrounded myself with on the men's soccer team," said Hines. "As a captain, I feel honored to have represented the program with my teammates the last four years. I would not trade anything for this opportunity to be a leader of the team."
Hines also says he believes his team is very ready for the times ahead. "I don't believe these are strenuous times for our team. Our team is ready to make our playoff push because we have been preparing all season for this very moment."
The Rams honor their seniors on Oct. 26 at East Boston Memorial Park. Senior Day festivities are estimated to begin around 11:45 a.m., with a noon kickoff vs Colby-Sawyer.
Leave a Comment
About the Contributor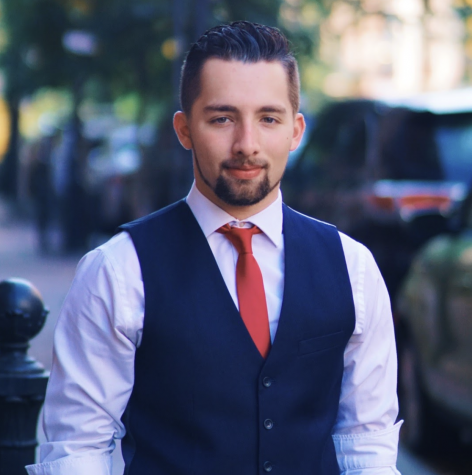 JD Conte, Sports Editor | he/him
JD is a senior from Wallingford, Conn. double majoring in political science and broadcast journalism. Aside from writing for the journal, JD can often be found in Studio 73 working on his broadcast skills. Off-campus JD can be found watching all the Boston and UCONN sports teams. He enjoys spending time with his family and friends in various spots around the city, especially in East Boston and the North End. After graduation JD hopes to work in a newsroom full-time or pursue a career in the sports industry.
Follow JD on Twitter
@jdconte617
Email him at
[email protected]