Suffolk women's soccer player battles back from injury
"I didn't know what was going on," said Jill Kohm in an interview with The Suffolk Journal. "I was in a lot of pain and my knee felt stuck at a ninety-degree angle, I couldn't bend or straighten it at all."
When Kohm tore her ACL in the third game of her sophomore season, her first collegiate start, she wasn't quite sure what had happened. Kohm tore her ACL by running while she was making a run to a ball in the middle of the game. She planted the wrong way, and collapsed. 
"I was running back on a recovery run," said Kohm, "I planted the wrong way, went down, there wasn't any contact or big collision."
The start of the 2018 season could not have started better for Kohm. With a new head coach on the team and an extra year of physical and mental maturity, Kohm was bound to see an increased role on the field.
Three games in, Kohm had already matched her career high shot attempts, and had shown significant improvement as a defender.
When Kohm went down, she wasn't the only one who didn't know what was going on. It took one week of seeing trainers with no improvement in walking before the team doctor came down from Massachusetts General Hospital and suggested it could be her ACL.
"[The doctor] telling me, that was the first moment I've ever been concerned about my future," said Kohm. 
Before the injury, like many athletes she knew it could happen, but never once thought it would happen to her.
An ACL tear brought real challenges in her daily life, outside of not being able to play soccer. In her first ever major injury, Kohm found herself away from home not being able to walk in the middle of the city with school and work responsibilities every day.
This season, Kohm was cleared to play at the beginning of September, three days short of a full year of recovery. The process was one like many, she underestimated at first. Throughout the year, Kohm persevered and worked to the very moment she could be step back onto the pitch.
"This has been the hardest thing I've ever had to overcome," said Kohm. "This is the longest I've gone without playing soccer since I was four. I've always loved soccer, I just didn't know how much I'd miss it once it was taken away from me."
With a grueling recovery behind her, Kohm was more than ready to step back out onto the field and play, but despite all the patience rehab demanded, she was still not ready to come back on the field.
After such a serious injury, the team brought Kohm in slowly, holding her for an extra game and limiting her minutes throughout the next seven. For Kohm, it's been a thrill to contribute to a team she didn't know if she'd ever play on again.
Donning a leg brace in practice and in games now, Kohm rarely ever fully puts her injury out of her mind.
"There's been a lot of PTSD with this… I couldn't even get out of bed by myself for a time," said Kohm. "There's a big fear of that being taken away from me again."
As Kohm continues to reacclimate to the speed of collegiate soccer, the Rams push for a home playoff game. Now in third place in the Greater Northeast Athletic Conference, Suffolk prepares to make its first playoff appearance since switching head coaches.
Kohm continues to be grateful for the women's soccer in-season trainer Erin Lanni. Kohm credits Lanni for helping her through every step of recovery; the good, the bad and the ugly.
"It was a very long time since I was able to contribute on the field, and I have been so excited to be able to contribute to the success of my team in games," said Kohm.
Leave a Comment
About the Contributor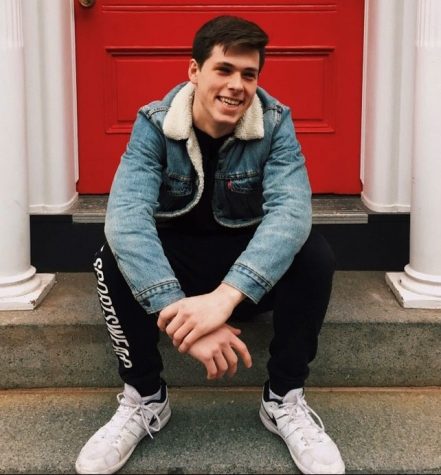 Andrew Laird, Assistant Opinion Editor | he/him
Andrew is a former New Hampshirite majoring in Journalism and minoring in English. When he's not reading or writing you can find him listening to jazz, going to museums and speaking passionately about his travels. One day Andrew hopes to obtain his doctorate in sociolinguistics.
Follow Andrew on Twitter
@The_AndrewLaird