Suffolk community responds to media coverage of Haiti crisis
Haitians have been emphasizing their frustration with President Jovenel Moïse for weeks now. Due to these frustrations, massive protests have broken out all across the island causing schools, clinics and businesses to be closed for weeks.
Haitians have expressed anger about fuel shortages since the collapse of Venezuela's PetroCaribe program under which Venezuela offered aid and cheap financing to several Caribbean nations to buy gasoline, diesel and other products. Public officials have been accused of embezzling money from this program that were supposed to be used to fund infrastructure and social projects, according to Reuters. 
The country is now in a dire economic situation and has struggled to import enough at market prices. This has caused fuel shortages while government attempts to reduce fuel subsidies have caused prices to soar, according to Reuters.
Suffolk University's Haitian community has spoken out about the tensions arising in Haiti. Senior big data and business analytics major Markendy Fils-Aime emphasized his frustrations with President Moïse and lack of responsiveness by the United States. 
"The U.S. doesn't feel responsible for what is going on in Haiti, hence their lack of assistance. If the U.S. wanted to help," Fils-Aime said to The Suffolk Journal. "They would've done so already and my people wouldn't be in this situation."
"That assistance was supposed to go to schools, hospitals, building roads, but instead the government took it for themselves," said Fils-Aime to the Journal.
This new wave of protests occurred shortly after the president announced they would no longer subsidize gas and diesel. Journalists, human rights groups and a state auditing body have all issued hundreds of pages of reports documenting how up to $2 billion from the Venezuelan fuel assistance program PetroCaribe has been diverted into politicians pockets, according to Jacobin Magazine. 
Early last week Moïse said that he refuses to resign. For Haitians, this means Moïse is willing to finish the last two years of his term. As a result of these protests, the people of Haiti are preparing for food and water shortages they presume will occur in light of recent events. 
Suffolk alumna Rebecca Zama voiced her feelings on the situation. 
"The economy is stagnating, currency devaluing, inflation skyrocketing, the cost of living increasing while wages are low," said Zama to The Journal. "Unemployment is high, people do not have constant electricity, basic infrastructure such as paved roads are not a given, and even hospitals are tight on resources. On a human level, many Haitian people find themselves in a cycle of poverty that is inescapable."
Opposition leaders have assembled commission. They say this commission would be responsible for overseeing an orderly transition of power that could help choose Haiti's next leader. The leaders also have rejected any suggestion of dialogue, saying they want Moïse to step down immediately, according to Jacobin Magazine.
"You don't see this on CNN or other big news networks," said Fils-Aime in an interview with The Journal. "I only see things on social media, it isn't fair to the people of Haiti, but I know my people will overcome this, Haiti will overcome this."
Some also speculate that the lack of coverage of the Haiti crisis could be due to the fact that there are several other protests happening in different parts of the world. While corruption is prevalent in many nations, the Suffolk community feels every crisis deserves significant media coverage.
"There are institutions and resources that exist to help you; although it's an imperfect system, it still exists. We know what our country can do for us because we can see it; it's visible, tangible, and measurable," said Zama.
The Haitian community at Suffolk is working hard in the U.S. so that they can give back to the families and friends who are being affected by these protests.
"I'm hopeful that Haitians can come together to find a Haitian-led solution for a better Haiti. I especially believe in the younger generation and their capacity to affect a positive change," said Zama.
Leave a Comment
About the Contributor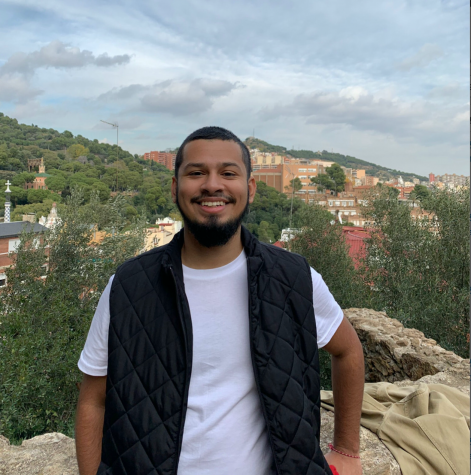 Oscar Torres, Staff Writer | he/him
Oscar is a Broadcast Journalism student that has a passion for storytelling. Using the skills he acquires he wants to emphasize the voices of the people he's interviewed and make sure they are being recognized. In the future, he hopes to be a news anchor. When he isn't working with The Journal he's probably playing basketball or looking for his next getaway trip.
Follow Oscar on Twitter
@MrOscarTorres