Is business done boomin'?
Antonio Brown's infantile attitude was his great demise
Hang on for a minute...we're trying to find some more stories you might like.
First came Terrell Owens, followed by Chad Ochocinco. Now it appears that Antonio Brown has taken over the throne as the NFL's wide receiver diva.
The Antonio Brown saga made for major headlines nationwide, but appears to finally be over for now. Both Patriots and Antonio Brown fans find the way Brown has handled his business over the last month to be childish — and rightfully so.
It all started in March, when Brown was traded from Pittsburgh to Oakland, in what seemed like a fresh start for all parties involved. Now, seven months and two teams later, it is clear that this was not the case. After being cut by Oakland in early September following a series of offenses including skipping of mandatory meetings and verbal altercations with Raiders Head Coach John Gruden and General Manager Mike Mayock, Brown was signed to a one-year deal by the New England Patriots.
There are many more ways to handle one's business than to post your problems all over social media and rely on your fans to constantly have your back, especially considering the disgusting accusations made against him. The majority of NFL fans find it rude and disrespectful to drag an organization, such as the Patriots, through the mud after giving him such a unique opportunity even after hitting what looked like rock bottom. Overall, it seems as though Brown's plan to return to school may be the best thing for him, as he will spend some time away from the spotlight and out of the NFL as a whole.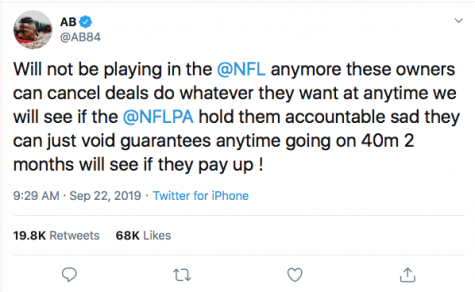 The Patriots' signing of Brown looked to be a match made in Heaven with one of the greatest players to ever live, Tom Brady, throwing to one of the best receivers of the decade. All while being coached by a man who would not put up with any of Brown's shenanigans — Bill Bellichick. Judging by Brown's initial reaction to his signing on social media, it had seemed as though he was ready to leave his bumpy offseason behind and keep his mind set on winning football games.
On Sept. 9, just two days after signing with New England, Brown was hit with a sexual assault accusation by his former athletic trainer, Britney Taylor. Taylor claims that Brown had assaulted her on three separate occasions: twice in June 2017 and once more in May 2018. Taylor said that Brown had kissed her without consent, stood naked with her present and ejaculated onto her without consent.
Despite these accusations, the Patriots, specifically Bellichick, rightfully kept their focus away from the matter and deflected any questions that reporters would ask them. The league however, announced it would immediately launch an investigation into the claims.
The accusations made by Taylor were followed by threatening text messages sent to her by Brown. This appeared to be the tipping point as Brown was cut by New England the same day the messages were sent and leaked.
It comes as no surprise to NFL fans that Brown's tenure with New England would be cut short. After having dealt with Brady's cheating scandal, Deflategate, Robert Kraft's prostitution scandal and the late Aaron Hernandez committing murder while rostered, it was certainly in the team's best interest to keep "potential rapist" off the list. Although there is no denying Brown's talent on the field, his childish behavior on social media combined with the gross accusations proved to be too much for any NFL team to handle.
It did not take too long for the Patriots organization to take action on these claims, as Brown was cut on Sept. 20 after having only played in one game. Brown took immediate action on social media after being released by the second team in under two weeks.
In Brown's tweet after being released, Brown said, "Thank you for the opportunity @Patriots #GoWinIt." It comes as no surprise to NFL fans that Brown's tenure with New England would be cut short given the serious accusations made against him. Brown could not resist from taking to Twitter once again to slander his now former owner, Robert Kraft.
Despite Kraft's charge, no serious punishment to Kraft was made by the league. Brown saw this as an injustice and tweeted, "Kraft got caught in the parlor AB speculations fired different strokes different folks clearly." 
In other words, Brown is saying that it was hypocritical for Kraft to push for his release despite being in a similar situation not too long ago.
Shortly after his release from New England, Brown announced on Twitter that he would be retiring from the NFL due to his ongoing contract disagreements with Kraft and Raiders owner Mark Davis. As for now, Brown intends on returning to college at Central Michigan and earning his degree.
The allegations made against Brown are seen as disturbing by many. Many fans have begun to call for his immediate ban from the NFL. If more evidence surfaces, and should all of the allegations become factual, then Brown should be forced to face the legal consequences as any other civilian would.