Suffolk alum discusses turning grief into literature to communications students
When Richard Ballo's wife lost her battle to cancer in 1993, the heartbroken widower was unsure how to handle the devastating loss, until he reached for a notebook and began jotting his grief down on paper.
The author and Suffolk alum came to the university on Thursday afternoon to speak to students in the communications, journalism and media department about how he uses this painful life experience, and many others, in his literature.
Ballo's interest in writing was sparked from a young age, but his windy college career path included studying everything from music to environmental studies. After earning a bachelor's degree in journalism and technical communications from Suffolk in 1986, he settled on continuing to pursue a career as a professional writer.
But the death of his wife became a pivotal moment in his life as he was consumed by grief. He said he began writing as a coping mechanism to work out the emotions he was feeling and to reflect on what he was going through in order to heal.
"When I proposed to her, my image in my mind was that we would grow old and grey… the thought of her dying from cancer was a million miles away," Ballo said during his talk. "I just had to deal with it the best I could."
His private journaling later transformed into his award-winning first book "Life Without Lisa." Since then, Ballo has also published a collection of interactive journals to help others grapple with the death of loved ones through pen and paper.
"People don't want to admit their mortality, and talking about it helps people feel better and realize it's a normal process," Ballo said in an interview with The Suffolk Journal.
Ballo went on to publish other nonfiction works as well. One of his most notable books is "Bullets and Babies," a biography about a mother named Janice Riddle who was shot by her husband and continued raising her children despite being left paralyzed.
The author continued to dive into new genres that extend beyond the grim topic of grief. He wrote a children's picture book, "A Mouse in the White House," a cheerful story about a mouse named Martin who scurries his way through the president's home. The book has expanded into a series, and Ballo said he enjoys sharing the tale with his grandchildren.
"I just want kids to laugh because kids are so innocent," Ballo said in an interview with The Journal. "Let's give them something to laugh about, that they can enjoy, and hopefully get them to be good readers and writers."
As his work spans a plethora of categories and readers, Ballo said the foundation for his writing skills was built when he was a journalism student at Suffolk. In his classes, he learned the basics of constructing a story and the importance of editing. He said he later realized that if he was able to write a small article, he was also able to write a full-length book.
Ballo also said that his experience in journalism helped him gain courage to talk to people. The author travels the country promoting his new work and giving speeches, so he has to put introverted tendencies aside to communicate with others.
"A Mouse in Santa's House," Ballo's latest book, will be released this fall. His books are available for purchase on his website and on Amazon.
About the Contributors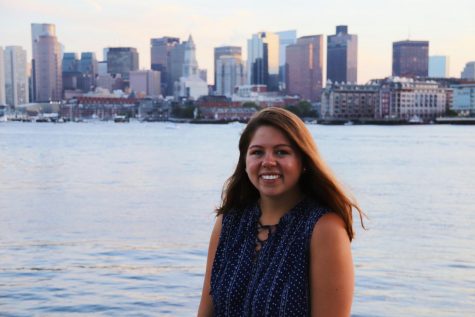 Morgan Hume, Arts Editor | she/her
Morgan is a native of Troy, New York and the Arts and Culture Editor for The Suffolk Journal. She is a rising majoring in print/web journalism and minoring in history. When she isn't scribbling into a notebook, she can be found drowning herself in cups of coffee, singing too loudly in the shower and exploring Boston, the historic city that has quickly become her home.