Amy Barry wins Employee of Season with Sox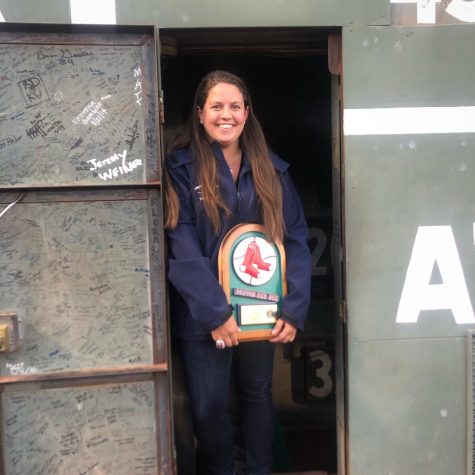 When she's not sharing the stories of Suffolk Ram athletes, Sports Information Director (SID) Amy Barry spends the rest of her time working for the Boston Red Sox.
In just two seasons working in the Ticketing department with the Sox, Barry has already experienced the great joy of a World Series win. Most recently, Barry was honored along with 24 others as Employee of the Season.
"It's nice to be recognized for all the hard work I do, especially all the hours," said Barry.
Barry was shocked by the honor, figuring that most of the awards were given out to new people in each department. Last Wednesday, she was honored in a ceremony on the field at Fenway Park. Barry's parents also got to take in all her glory, visiting Fenway for their first time.
With a commitment to athletics, it wasn't a surprise that a little more than a year ago Barry was also praised for her work with Suffolk Athletics, being recognized as SID of the year for the Great Northeast Athletic Conference. She's also won various awards for her design work on the Suffolk Athletics website.
Some of Barry's job responsibilities for the Sox include working game day sales and in the will call booth at Fenway Park. This year she started working with credentials and came up with a system to organize the passes in a more efficient way.
This isn't the first time Barry has had to rebuild a system in sports. Starting back in 2015 when she joined Suffolk Athletics, there were only 13 sports. This eventually grew to 19, and along with that, Barry garnered more responsibility in her role.
Work at Fenway Park comes with excitement though, as Barry was able to watch all of the home World Series games last year. While there may be no playoff excitement this year, Barry has still had some memorable opportunities such as giving a VIP tour to actor and comedian Kenan Thompson.
"Working in sports you never know what you're going to get on a day-to-day," said Barry. "It's always different. That's why I chose to work in sports. It's never like you're going to go to the office and do the same thing."
With two time consuming jobs, Barry doesn't have much of an offseason herself. She explained how both tend to balance out though as the Sox play through the summer when there aren't any Suffolk sports going on.
"It's a great job that I don't really want to give up any time soon," said Barry.
At Suffolk, Barry now has some help in her role with two grad assistants working by her side. She said that she hopes to continue to see roles like hers expand in the department. As for the Red Sox, Barry said she plans on staying with the team for as long as she can.
"I don't see myself leaving anytime soon," said Barry. "It's a part time job that I really enjoy. The people there are great. My boss is so understanding. I would like to stay there as long as I'm in the city."