Residence halls conserve energy in national competition
Bianca Saunders
Journal Contributor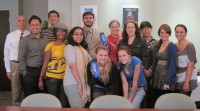 It's time for Suffolk to take place in the Campus Conservation Nationals Competition, an energy consumption reduction competition for campus residence halls. Last Wednesday, a meeting was held in the Suffolk's Munce Conference Room with Michael Murray, CEO of Lucid Design.
Murray, who is hosting the competition, gave a brief presentation to the attending students and faculty members regarding the competition. The website he has created will keep track of statistics during the three-week competition period beginning November 1 and ending November 19.  He said they are not starting something new, but rather "providing cohesion through a website to track competitors."
Murray explained that in the competition, although 40 schools are involved, each campus is competing against its own statistics.  In October, each residence hall's baseline energy consumption percentage in kilowatt-hours will be measured. It will then be compared to the new energy consumption percentage following the three-week period.  In addition to the national competition, Suffolk is also hosting an internal competition in which Miller Hall, 150 Tremont , and 10 West will be competing against each other. Suffolk's goal is to reduce energy consumption by 10 to 15 percent.
The presentation was followed by a brainstorming period hosted by Erica Mattison, Suffolk's Campus Sustainability Coordinator and leader of the university's involvement in the competition. Students and faculty discussed the different ways they could promote the competition throughout the campus and encourage students in the residence halls to do their part.  The participants, which included Eco-Reps, Eco-Ambassadors, Eco Club members, and other concerned students, showed a great deal of passion for the campaign.
"I believe this will be another step towards a more sustainable and efficient campus. This competition will be another initiative to help create awareness while at the same time engaging the Suffolk community," said Julian Rivera, an Eco-Ambassador. "Initiatives like the Campus Conservation Nationals are tremendously beneficial to the Suffolk community because they promote one of our fundamental goals- fostering environmentally, socially, and financially responsible practices."
Suffolk was introduced to the competition several months ago through an email received by Mattison.  "Given Suffolk's commitment to reducing energy consumption in our facilities, it made perfect sense for us to sign up to participate in the new Campus Conservation Nationals competition," she said. "This fall, as part of the competition, the Office of Residence Life, the Residence Hall Association, the Suffolk University Sustainability Committee, Eco-Ambassadors, Eco-Reps, and Suffolk Environmental Club will be working together to engage with residents and raise awareness about the importance and ease of energy conservation".
The meeting concluded with a great deal of hope and excitement, with all parties in agreement that if everyone does their part, this could be a great step forward to further  campus sustainability at Suffolk.
"It's not a matter of being a good person… it's a matter of life or death," said freshman Katherine Cain. "The earth is in a horrible state… we need to take care of it, we only have one."
Leave a Comment