Men's basketball prepares to heat up in Florida
While many Suffolk students head home for winter break, the Suffolk men's basketball team will take their talents down to Naples, Florida on Dec. 27 for a pair of regular season games.
Bringing 17 players and a few coaches from the heart of Boston down to Florida may have been easy to sell to the team, but it proved to be a difficult task and required lots of fundraising.
The team worked games at Foxborough over the summer, looking for donations from people. They also participated in the Suffolk Athletic Department yearly calendar raffle as well as using a crowdfunding website, "Snap! Raise," in order to collect donations from friends and family.
Head coach Jeff Juron, who is in his fourth season with the Rams, said that this is the first time he can recall that the team will travel down south to play.
"This is something we've discussed for a while, it was a team decision. Last spring I sat down with the returning guys and expressed my desire to go outside the region to play against some teams we otherwise wouldn't be able to face and they shared that desire with me," said Juron.
For junior Thomas Duffy, the team's trip to Florida is one he has been anticipating since early this year.
Duffy has been remarkable this year for The Rams, posting career highs for himself in almost every single statistical category as well as leading the team in points, steals and assists. But for the teams all time leading scorer under coach Juron, this trip will be a new experience.
"We've had one long trip before, seven or eight hours on a bus before, but nothing like this, the farthest I've ever been playing basketball was New Jersey back in sophomore year high school," said Duffy in an interview with The Journal.
"
It's going to be a fun time. We talk about it a lot in the locker room and off the court as well, we are all really excited."
— Max Bonney-Liles
While Duffy and some of the other veterans on the team have gotten used to the collegiate basketball schedule, many of the freshmen are still adjusting to this change.
Max Bonney-Liles, former New Hampshire Men's Basketball Player of the Year for Alvirne High School, is particularly excited.
"It's going to be a fun time," said Bonney-Liles in an interview with The Journal. "We talk about it a lot in the locker room and off the court as well, we are all really excited."
For players like Bonney-Liles who played AAU basketball all throughout high school and has traveled often, a trip so far out of state might not be daunting.
The Rams fly out of Boston just two days after Christmas. They will have a day of practice and then games on back to back days, first against Luther College from Iowa, and then against Wells College from New York.
For some, the short time back home with friends and family may be disappointing, but for collegiate athletes, it is simply part of the game.
"I basically told my parents, 'You get me for one week, and then I'm off to Florida'," said Bonney-Liles. "One summer I went to New York, Pennsylvania, New Jersey, and Florida all in the span of three weeks."
The Rams currently hold a 3-4 record and although they have struggled to pull out wins, the team has yet to play a conference game. Their first conference game will be played in January and until then they hope to gain confidence as a team.
The Rams are still in great shape to make the playoffs and are excited for the bonding opportunity.
"Road trips are when the best team bonds are formed," said Juron.
Juron and the team look optimistically towards the rest of the season, feeling better each day. They learn more and more and collectively feel that their best days are ahead of them.
View Comments (1)
About the Contributor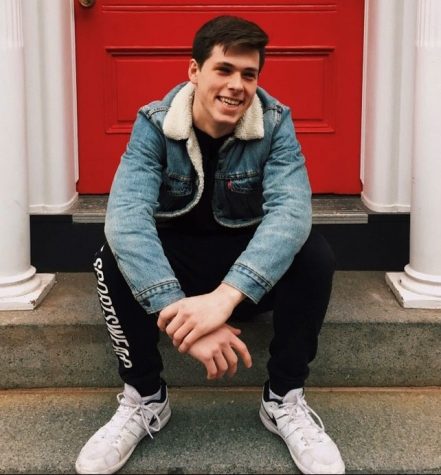 Andrew Laird, Assistant Opinion Editor | he/him
Andrew is a former New Hampshirite majoring in Journalism and minoring in English. When he's not reading or writing you can find him listening to jazz, going to museums and speaking passionately about his travels. One day Andrew hopes to obtain his doctorate in sociolinguistics.
Follow Andrew on Twitter
@The_AndrewLaird