Supreme Court Justice confirmed
This article contains a graphic description of sexual assault. Please read at your discretion.
In a close, nearly party-line vote held Saturday, Judge Brett M. Kavanaugh was confirmed to replace retired Justice Anthony Kennedy as associate justice on the United States Supreme Court. The vote took place following a months-long nominating process that dove deep into Kavanaugh's judicial record and personal conduct.
All but two Republican senators,  Lisa Murkowski (AK), who voted "present" and Steve Daines (MT), who was home for his daughter's wedding voted "yes," while all but one Democratic senator  Joe Manchin (WV), who faces a red state reelection battle, voted "no."
Kavanaugh's confirmation was in doubt recently after three separate allegations of sexual misconduct, dating back to the 1980s, surfaced last month. The first accuser, Dr. Christine Blasey Ford of California, testified in front of the Senate Judiciary Committee, where she expressed that she felt it was her "civic duty" to come forward after a letter detailing her allegations against Kavanaugh leaked from Senator Diane Feinstein's (D-CA) office in September.
"I am here today not because I want to be: I am terrified," said Dr. Ford during her opening statement to the Judiciary Committee on Sept. 27. "I am here because I believe it is my civic duty to tell you what happened to me while Brett Kavanaugh and I were in high school."
Dr. Ford went on to detail the happenings of a party in 1982, at which she accused Judge Kavanaugh of pinning her to a bed and sexually assaulting her.
"I was pushed onto the bed and Brett got on top of me…Brett groped me and tried to take off my clothes. He had a hard time because he was so drunk and because I was wearing a one-piece bathing suit under my clothes. I believed he was going to rape me," said Dr. Ford.
Judge Kavanaugh unequivocally denied the allegations made against him.
"There has been a frenzy to come up with something, anything, no matter how far-fetched or odious that will block a vote on my nomination. These are last-minute smears, pure and simple," said Kavanaugh in a prepared statement. "I was not perfect in those days, just as I am not perfect today. I drank beer with my friends, usually on weekends… But that's not why we are here today… I never did anything remotely resembling what Dr. Ford describes."
Across campus, students reacted with shock and dismay.
"It was disheartening to see the Republicans ignore Dr. Ford's powerful testimony for cheap political ends," said junior James Walsh. Walsh, a Politics, Philosophy, and Economics (PPE) major from Marlborough, who followed the nomination and confirmation process closely.
Junior PPE major Claire Warner had a very personal take on Judge Kavanaugh's confirmation. As a victim of sexual assault, she said she looked up to Dr. Ford and admired her bravery.
"When I was sexually assaulted in high school, I turned down the opportunity to report my case because I feared no one would believe me. Three years later, I watched Ford take the stand and essentially be the martyr for sexual assault victims. She was everything I wished I could have been three years ago. For her to sit there and tell the whole world of her hidden pain and then have the world dismiss her is exactly why we victims do not report our experience," said Warner.
"

"I turned down the opportunity to report my case because I feared no one would believe me. Three years later, I watched Ford take the stand and essentially be the martyr for sexual assault victims. She was everything I wished I could have been three years ago.""

— Claire Warner
The hearing shed light on the issue of sexual assault in the United States, where according to the Rape, Abuse & Incest National Network (RAINN), 1 in 6 women and 1 in 33 men are victims of rape. In light of the #MeToo movement, where the nation saw thousands of survivors of sexual assault speak out, the allegations took on a new meaning.
"My issue with it all is the shortness of the FBI investigation," junior history major Derek Briand told The Journal. "It should've been longer and more thorough. I also think the overall process of choosing a Supreme Court justice is archaic and outdated. Whether we limit terms of Supreme Court justices or every 8 years look and reanalyze all the justices and revote accordingly, we have to do something."
Judge Kavanaugh is not the first Supreme Court nominee to sit on the court despite serious allegations of sexual assault. In 1991, attorney Anita Hill accused George H.W. Bush's nominee Clarence Thomas of sexual harassment. Despite the allegations, Judge Thomas, then one of the United States Court of Appeals for the District of Columbia Circuit, was confirmed in a 52-48 vote that saw 11 Democrats vote "yes" and two Republicans vote "no."
Before the allegations of sexual assault, Judge Kavanaugh appeared to be a shoo-in for the seat formerly held by Justice Anthony Kennedy, who announced his retirement in June. Kennedy was a crucial swing vote who authored many high-profile majority opinions, while Kavanaugh falls somewhere ideologically between President Trump's first nominee, Justice Neil Gorsuch and former Justice Antonin Scalia, a conservative powerhouse who was well known for his dissents before his death in early 2016.
Despite having the votes to confirm Judge Kavanaugh, there were a few legal concerns surrounding the circuit court judge before his confirmation hearings began.
The most controversial and relevant of his beliefs are his thoughts on presidential power. In a 2009 Minnesota Law Review article titled "Separation of Powers During the Forty-Fourth Presidency and Beyond," Judge Kavanaugh wrote that, "Congress might consider a law exempting a President while in office from criminal prosecution and investigation, including from questioning by criminal prosecutors or defense counsel."
Leave a Comment
About the Writer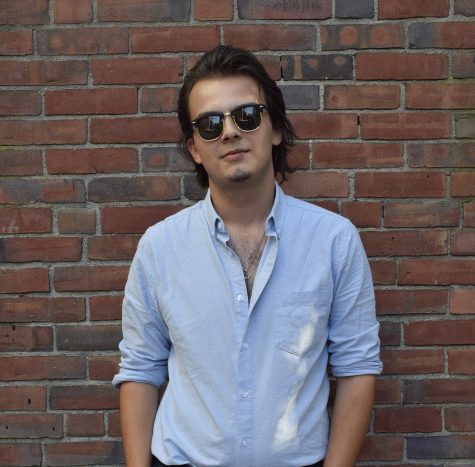 Nick Viveiros, Senior Staff Writer
Nick Viveiros is a senior majoring in Politics, Philosophy & Economics and Journalism. Born and raised in Fall River, MA, he began writing for the Journal in the fall of 2016.
Nick published his first book, the poetry collection this new world, during his first semester of college. His second book, Love Across the Zodiac, was released through his company, Quequechan Press, in mid 2019.
Follow Nick on Twitter @thenickviveiros 
or head on over to his website, nickviveiros.org