CollegeFest turns 25
Sarina Tracy
Journal Contributor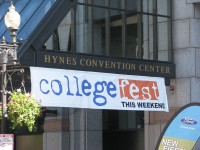 It's that time of year again. Thousands of college students have poured into Boston as the new school year begins, and CollegeFest, now in its 25th year, attracted  more than 15,000 students from over 100 colleges throughout Boston and New England.
Students piled into the Hynes Convention Center on Sept. 11 and 12, ready to enjoy live performances from Chiddy Bang and Asher Roth, among others.
Along with entertainment, hundreds of free products and deals were given away by more than one hundred vendors, including Ford, Verizon Wireless, STA Travel, Nantucket Nectars, New England Revolution Soccer, and other popular giants.  Students also had the chance to eat free food and win prizes through coupons and raffles.
"It's just the free stuff that brought me here," said Nathan Marchande, 18, a student at Bentley University.   "My favorite booth is 'I Am Hungry'," he said while happily enjoying one of their chicken-wraps.
I Am Hungry, an application used on SmartPhones and Facebook, recommends where those living on a budget can dine by comparing the best deals around the user's city.
The majority of vendors used social networking to their advantage by offering incentives to attendees who "liked" their Facebook page or "tweet" a like about their company on Twitter.
Eco-friendly, organic and natural products were also promoted.
"For college kids, they're all concerned with energy.  The company is now offering an all-natural energy drink, without the jitters and without the crash that they have been used to," said Mike L'Homme, a marketing representative from Ocean Spray, explaining a new product called Cran-Energy. "It's just a good product, streamlined for this generation."
Streamlining old products to be more modern and efficient is the name of the game in this economic downturn, as students are trying to be as thrifty, healthy and resourceful as possible. However, Generation Y still wants to have fun, no matter how bleak the economy may be.
"I was definitely interested in getting as many energy drinks as humanly possible, but also to try and sign up for events and giveaways," said Chris Ingle, a sophomore at Wentworth Institute of Technology.  "I also think it's great that students are becoming more involved with eco-friendly products."
One of the larger attractions were the "zombies" from Spooky World mingling with the crowd.
"Everyone loves Spooky World," said the Zombie Groom, clutching his Zombie Bride.  "At any age, it's an adrenaline rush.  The atmosphere of the park is what draws people to it.  Everyone wants to be scared."
Emily Whitlow, a freshman at Suffolk University, walked into the convention center not knowing what to expect. Chiddy Bang's performance was among her favorite attractions. "I liked [CollegeFest] because there were so many things going on," she said. "Plus, they had lots of cool free stuff!"
View Comments (1)