Bourikas represents Lady Rams in senior All-Star Classic game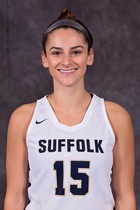 Senior Georgia Bourikas found yet another spot in the Rams' record books this weekend when she competed at the New England Women's Basketball Association (NEWBA) Senior All-Star Classic at Smith's Ainsworth Gymnasium.
Being the sole representative from the Lady Rams, Bourikas, who ended her Suffolk career with a total of 1,109 points, is the first Ram to participate in the classic. The senior put on her Lady Rams' home basketball jersey one last time when she added 11 points to her teams 66. Unfortunately, Bourikas and the home team lost 91-66.
Bourikas had the opportunity of competing with a team of collegiate athletes from seven opposing schools and was coached by one of the Lady Rams' top rivals, Saint Joseph's College of Maine.
Back in December, Bourikas hit another first in Suffolk women's basketball history as she was named NEWBA Player of the Week. In that week she averaged 29 points and 9.5 rebounds per game.
As her collegiate career came to an end, Bourikas finished with a total of 108 game appearances for the Lady Rams, while playing a total of 2,649 minutes and averaging about 38 points per game.