Aiming higher: Men's tennis team preparing to shock GNAC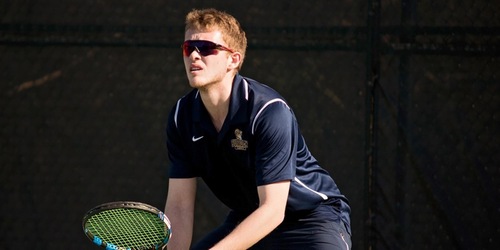 By many, the bar is set low for the Suffolk University men's tennis team, but the Rams will look to surprise doubters within the Great Northeast Atlantic Conference (GNAC). Led by junior captains Rami Esrawi and Chris Parnagian, the Rams will look to surpass the expectation of finishing  last in the GNAC as they were voted to this spot in the preseason coaches poll.
Suffolk struggled to the finish in the 2017 campaign. Though the team managed to make it into the GNAC tournament, Suffolk lost in the first round to Johnson & Wales University 5-0, ending the year with an overall record of 2-8.
The Rams started the 2018 season on the wrong foot, losing to Wentworth Institute of Technology 6-2 on Thursday. Esrawi downplayed the loss in a recent interview with The Suffolk Journal, saying it was only the first game of the year.
The Rams will be turning a new page this season, as they compete without their former captain of two years, Francesco Saia. As a result, Esrawi and Parnagian took over his position as co-captains.
Both juniors are looking to get different qualities out of their teammates as the season begins.
"As captain, I hope this year our players can show improvement and growth," said Parnagian in a recent interview with The Journal. "I want our team to be willing to play outside their comfort zone and take risks. Sometimes when we take risks we find out what we are truly capable of accomplishing."
"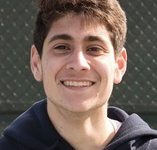 I want our team to be willing to play outside their comfort zone and take risks."
— Chris Parnagian
Esrawi mentioned expectations of what he wants from each player and how each player's mentality should be the same.
"I expect [my teammates] to go to most practices and to work hard every day," said Esrawi. "I also expect us to take it more seriously this year. Our younger players are more experienced and I want to tap into that potential."
One player that will be benefiting from this experience is sophomore Omar Azzaoui. Azzaoui is currently the most essential piece to the puzzle for the Rams, as he currently is slotted in the first singles position. This means that Azzaoui will be going against the opponent's top player every match, making his position on the team the most important.
Azzaoui proved why he should be in the primary slot, winning his first matchup of the season. This gave Suffolk one of only two wins in the overall match.
When asked if he feels any added pressure being the top spot on Suffolk, Azzaoui said there was none.
"I already go into every match wanting to perform at the highest level, so there's no added responsibility for me," said Azzaoui in a recent interview with The Journal.
Azzaoui was one of the most talented individuals on the Rams roster last season, but an illness toward the end of the season stopped him from unleashing his full potential as a freshman. This year, Azzaoui explained how he hopes to remain healthy and improve on his record from last year.
The impact Azzaoui is presumed to make in addition to added experience from younger players, both captains feel much more confident going into this season.
"Oh, I'm confident. Big time," said Esrawi. "We have a lot of talented players like Parnagian, Cam Roach, Azzaoui and Kevin Greenman. Looking at the teams we're playing, we match up pretty well."
Both captains will use the preseason poll to their advantage for motivational purposes. The two juniors choose not to look at the low standing as a negative, but rather, a confidence boost to excel on the courts.
"Overall, I feel like we have a solid foundation of coaches and players," said Parnagian. "Our enthusiasm for this sport and support for each other allows me to feel that extra edge of confidence while under stressful matches."
The Rams will continue to attempt to prove people wrong on March 29 when they will face University of Massachusetts Boston.
Connect with Joe on Twitter
About the Contributor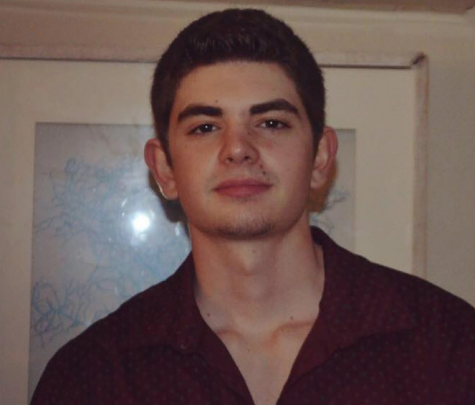 Joe Rice, Former Assistant Sports Editor
As a Staff Writer for The Suffolk Journal, Joe Rice aspires to have his own sports radio show someday. As a junior who is currently seeking a degree in Broadcast Journalism, he devotedly follows the Boston Bruins, but is also always keeping up with the sports realm as a whole. Rice has found a life in the city of Boston and plans to continue his future in journalism there. If you are trying to find him, he is likely the individual in the crowd with a Red Sox cap on, unless he is fresh of a haircut.