Congress comes to campus
Congressmen on Capitol Hill talk life in the American political machine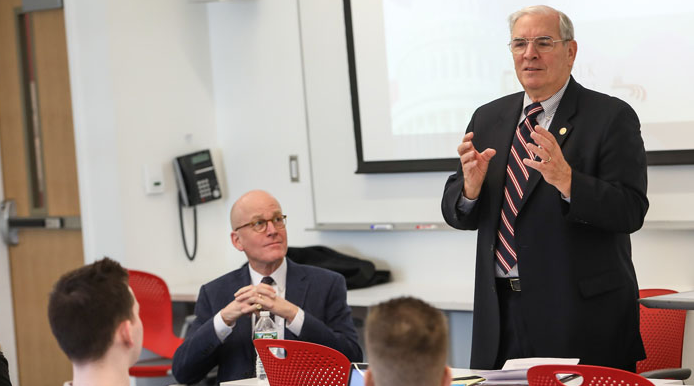 The year is 1972. A Boston University student, Joe Hoeffel, is headed up to New Hampshire to campaign for then-U.S. Senator George McGovern's presidential campaign. A country apart and a world away, Stephen Kuykendall is preparing for his second tour in Vietnam in the midst of the country's most controversial war. Both of these men would go on to become members of Congress.
At a lunch with government majors on Tuesday, Kuykendall said "Sometimes [in Congress] the only thing we had in common is that we're both elected."
Hoeffel quickly chimed in "And you have to respect that!"
This week Suffolk University hosted former Congressmen Joe Hoeffel (D-PA) and Stephen Kuykendall (R-CA) for the annual "Congress to Campus" event hosted by the Government department.
From Monday, Feb. 26 to Wednesday, Feb. 28 the Congressmen had a packed schedule that ranged from breakfasts with social science majors and dinners with graduate students to visiting government courses and fielding questions on a range of policy issues related to gerrymandering, veterans and President Trump's Administration.
"Everyone knows what you do, and everyone thinks they can do it better than you," Hoeffel said about working in congress.
The Suffolk Journal sat down for an interview with Hoeffel and Kuykendall to learn more about their experiences in public office, the secrets of being in Congress and the future of their political parties.
In 1999, Hoeffel and Kuykendall were sworn-in as members of Congress, but had different motivations for first running.
Kuykendall reflected on meeting his state legislator when he was a city councilor over a coastal issue that was not being addressed seriously.
"She didn't understand the subject, let alone how to change it," said Kuykendall. "And I said to myself 'I could do better than this.'"
Hoeffel's political interests started in Boston on George McGovern's 1972 presidential campaign.
"That's where I fell in love with politics and the political process," said Hoeffel. "And two years later I was running for the Pennsylvania State House."
The most memorable moments in Congress for Kuykendall and Hoeffel happened when they stepped outside the House chamber.
Kuykendall remembered a summer night after being in session all day and walking out onto the Capitol steps to see fireflies.
"Who ever thought this kid from Oklahoma would be here? Those little fireflies reminded me of where I had come from," said Kuykendall.
While some cynics will saw that Congress is full of secrets, it is the enormous, historic Capitol Building that is filled with secret places for members to escape.
"You need two phones!" Hoeffel and Kuykendall said in unison, when asked about the intricacies of the job.
More unknown in Washington, D.C. are the next steps for the Democratic and Republican parties following Trump's election.
"The Republican party needs to recognize the fact that Trump has been a user of our brand and not a very good user in my opinion," said Kuykendall, "There's a whole lot of things that Republicans stand for that Trump hasn't paid any attention to."
The California Republican signed on to an October 2016 letter with several other former Republican congressman that disparaged then-Republican nominee Donald Trump.
"Donald Trump isn't really a Republican in my opinion. Donald Trump is Donald Trump," said Kuykendall. "He has taken the pieces of the Republican mechanism that benefitted his election campaign and used them masterfully."
The members agreed that bipartisanship and compromise is necessary in Congress and could be a way to getting legislation passed while avoiding the pitfalls of appealing to Trump.
"If [Trump] can't cut deals and he can't tell the truth and he's diminishing our democratic institutions, that is not providing leadership," said Hoeffel, who released his book last year "Fighting for the Progressive Center in the Age of Trump."
"As Democrats, we can't get carried away with anti-Trump fervor and fever," said Hoeffel. "We've got to stick to our knitting; be fiscally responsible and then stand for what Democrats stand for which is investing in good programs to help people."
Hoeffel believes that Mueller's investigation into Russian meddling with the Trump campaign should not override the Democrats' goals. He added that Trump and his base would likely label Mueller's investigation as "fake news" if the results do not please the president.
"My sense is that the Democrats should not be working for impeachment," said Hoeffel, "but should be working to beat Trump at the polls in 2020."
Both members agreed that having served in elected office at all levels of government, being a representative at the municipal level felt most rewarding.
"I could change your life in 90 days in city government," said Kuykendall at a lunch with government majors on Tuesday. "In Congress, I could probably get [a bill] introduced in 90 days."
The congressmen stressed the importance of voter participation, especially among young people.
"Someone is going to win these elections, so you really, for your own self-protection, ought to have some influence over who's winning," said Hoeffel who added that he once lost a Congressional election by just 86 votes.
At Suffolk University getting students engaged in voting is taken seriously. The university was nationally recognized recently for high rates of voter turnout among students and was awarded a silver seal at the ALL IN Challenge Awards.
"The folks in your generation are the ones that have the most at risk," said Kuykendall. "Your entire future's path is being influenced by who's in government, and if you don't choose to take an interest in that, do you choose to take an interest in your whole future?"