Marketing graduate program to launch fall 2018
Suffolk University has established a new graduate program in marketing, one that is designed to give students a greater understanding of the technological changes in the industry over a period of less than 12 months.
Students would be able to begin the Masters of Science program in marketing in the fall of 2018. This program would be especially accessible to students already enrolled at Suffolk, as they would be able to carry over many of the credits they have already earned as an undergraduate student, speeding up the graduation of the masters program further.
Students will have the ability to either design a focus from selected elective courses or follow any of the three concentrations set out by the university. These three areas of focus are in product management, global marketing and market research and customer insights, all of which were described by program head Professor Elizabeth Wilson as being highly relevant to the modern marketing student in a recent presentation.
"Jobs in [these areas] are growing, faster than average, and the starting salaries would be somewhat higher with a masters degree compared to just a basic undergraduate degree," said Wilson. "You can really tailor your  program however you want that's going to get you the job you are looking for post-college."
The timing of the creation of the program is no coincidence, as recent data from the United States Bureau of Labor Statistics (BLS) puts several jobs in marketing as among the top 20 areas of growth in the next decade. This includes employment as a marketing content manager and as a head of customer experience.
Wilson also discussed future plans for the program, expressing interest in a possible concentration in advanced digital analytics.
"This might be a good program for you if you are looking to get a little more marketing content, maybe a specialization before you dive into the working world on a full time basis. There are a number of ways you can do that with this program," said Wilson.
Among the large number of students who attended Tuesday's information session about the program, were Suffolk seniors Frances Santana and Brooke Eustace. Both students are on schedule to complete this semester with a major in marketing and are looking to enter into the new graduate program the following semester.
"I am not looking at any other programs, I am set on this one." said Eustace in an interview with The Suffolk Journal. "I am just still trying to decide on a concentration."
Santana expressed her motivation for involvement in the program; as her interests lie with the short amount of time it would take to complete this program as well as the level of depth the teaching would provide.
Even with the option of several different focuses of study within the program, Santana explained that deciding on one would not be so difficult a process for her, "Choosing my concentration for the program probably will depend on where the money is out in the job world."
Leave a Comment
About the Contributor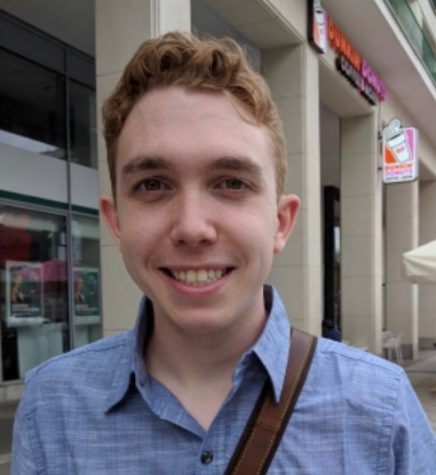 Kyle Crozier, Former News Editor
Kyle is a senior environmental studies major from Rhode Island, and has written for the Journal since 2017. When he is not covering science events in and around Boston, Kyle is working to pursue a career in urban sustainability and possibly attend Grad school. He loves animal facts, Poland, and animal facts.