The Queens Return
Drag show returns in celebration of LGBTQ History Month
Extravagantly bedazzled outfits, spunky wigs and fun makeup are all major ingredients to a successful and captivating drag show. All of which were present last Wednesday at the Annual Drag Show hosted by the Queer Student Union and Performing Arts Office at Suffolk University in celebration of LGBTQ history month. The room was filled with vibrancy as the drag queens and king took the stage to perform lip-synced versions of popular and upbeat songs. The show certainly honored the LGBTQ community's historical background and colorful spirit.
Drag Queen Kamden T. Rage made her big debut, performing "Highway to Hell," in an outfit that captured a total punk-rock essence. It was Rage's first time ever performing at Suffolk, and she left her mark on the audience.
"If I didn't have a voice I wouldn't have gotten into as much trouble as I've gotten into- which is fun. It's fun to be different and to be rebellious," said Rage to the audience.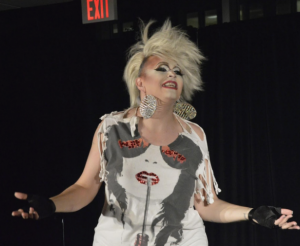 Rage embodied both the spirit and appearance of a true rock star during her first set. This fierce queen snapped her fingers, shook her hips and freely moved with the beat as she introduced Drag King Tyler.
"Tyler holds the title of Mr. Boston Pride 2016 and is the first transgender male to win in that category," said Rage as she introduced him. Drag King Tyler then took to the stage next, performing a lip-sync cover of "Let me Love You" with a pink and blue glittered beard, honoring the transgender flag, and fairy wings.
"The dancing diva" Miss Misery had the entire audience captivated the second she stepped onto the stage in her fabulous black heels. Misery brought the room to life by doing a split which stunned the crowd.
"We like to have fun here, and I'm just thankful for you guys for being here and supporting us every single year," said Misery.
The audience was fully engaged throughout the show, many smiled, laughed and cheered on as the drag queens and king performed.
The show concluded with the Queen's performance of "Lady Marmalade." The Queen's outfits for this final set were nothing short of astonishing- between Misery's fabulous gold accessories and Krystal Crawford's purple feather boa, the stunning ladies exuded confidence almost too big for the tiny stage to contain.
"We enjoy what we do, we love what we do and we want to share it and make your lives just a little bit more happy," said Crawford.