Lucky number three
Three women's soccer seniors score hat tricks
Hang on for a minute...we're trying to find some more stories you might like.
Three Suffolk University women's soccer team seniors finished their regular season careers wearing the same uniform they started in four years ago. Forwards Alexandra Nagri and Jen Martin netted hat tricks in the final regular season game; a 10-0 victory over Mass Maritime Academy.
Forward Jessica Harmon, Nagri and Martin seemed to be finishing up the season on a strong note. All three of them recorded hat tricks in the second half of the season, propelling Suffolk to a late season playoff push.
Nagri started off the hat trick trend on Sept. 30, scoring three goals against Norwich Academy, boosting Suffolk to a 5-3 victory.
Martin impressed at senior day on Oct. 14, scoring four of Suffolk's five goals in a 5-0 victory over Rivier University. In the very next game Harmon scored three goals of her own, leading Suffolk to a 6-0 victory of Pine Manor College on Oct. 16, one of their more dominant wins of the season.
Nagri's soccer journey started when she was three years old. With an instant love for soccer, she began playing in local leagues before attending Central Catholic High School in Lawrence, Massachusetts.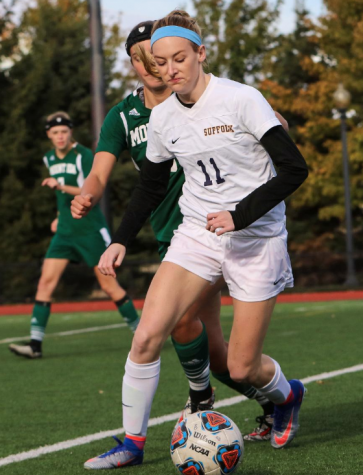 Nagri's success continued throughout her collegiate career. As a Ram, Nagri netted 45 goals while also contributing 101 points in her collegiate career. She became the second Lady Ram to score at least 100 career points. In her senior season alone, Nagri scored 14 goals with 30 points.
"The school, coaches and team made it really fun and enjoyable to play here. When you enjoy playing, you play your best," said Nagri.
The women's soccer team lost nine seniors, leaving many open roster spots for next season. Despite losing a big core of their team, Nagri was confident that the legacy her and the team have left behind will continue to grow.
"The team has come a long way in the past couple of years. If the younger [teammates] keep working hard, Suffolk can become one of the top women's soccer programs in the league," said Nagri.
Senior forward Martin started her soccer career when she was six years old and began playing recreational league soccer in her hometown of Haddam, Connecticut. After continuing her passion in high school at Haddam-Killingworth, Martin began her journey as a freshman at Suffolk.
Martin emerged in her senior year, recording 12 goals and 28 points. Her biggest attribute, besides her hard work, was her speed. Opposing coaches would warn defenders of Martin's speed as she would run down the field.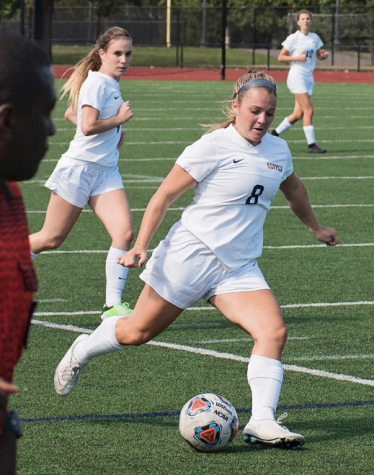 "Don't let 11 get by you" became a popular phrase among opposing teams and coaches, according to the fans in attendance.
"Getting a hat trick on senior day was extremely special. It was sad coming to a realization our season would be over soon, but winning 5-0 definitely lifted our spirits," said Martin in a recent interview with The Journal.
Martin finished her Suffolk soccer career with 38 goals and 92 points.
"[My teammates] motivate me both on and off the field and truly inspire me. They are the reason I love playing," said Martin.
Martin also credited head coach Darren Lloyd for the team's success as well as helping her grow as an athlete.
"[Lloyd] taught us never to give up and play for the team, not your individual self. Appreciate every moment you have being a part of this team," said Martin. "Don't take anything for granted. Before you know it, you'll be tying up your laces for the last time."
Harmon may have had a much different start to her soccer career compared to Martin and Nagri, but she certainly is finishing just as strong. Originally from Orange County, California, Harmon traveled across the country to play soccer for the Lady Rams.
As a freshman, Harmon was voted Great Northeast Athletic Conference (GNAC) rookie of the year, and she began to love her school as well.
"[Boston] became my home. Moving across the country was the best decision of my life," said Harmon in a recent interview with The Suffolk Journal.
Harmon continued to be a significant member of team all the way through her senior season. Harmon recorded five goals this year, all of them meaning something very special to her. In a match against Pine Manor College, Harmon's mom flew in from California to watch her daughter play. Harmon did not disappoint, as she netted three goals for a hat trick with her mom cheering her on in the crowd.
"The most important thing for me was that my mom was able to see those goals," said Harmon. "I would not be where I am today without her. I owe all my success to her and I hope I can become half the woman she is."
This season, Harmon started every game, becoming a team leader on and off the field. The senior will finish up her career at Suffolk with 22 goals and 57 points.
"Anyone could go to them for support on or off the field," said sophomore teammate Emerson Wildes in a recent interview with The Journal. "Their encouragement helped our team become stronger so we were able to overcome our struggles."
The women's soccer team is currently 7-8 and earned a spot as the eighth seed in the GNAC tournament. The Lady Rams await where and when they will play the tournament's first seed.