Rams swing for a title
Men's golf a tee away from season triumph
In the past 14 seasons, the Suffolk men's golf team has never finished first in the Great Northeast Athletic Conference (GNAC) Championship. As the current season shortly runs it's course, the Rams will look to bring a title home to Suffolk.
Suffolk opened the 2017 season on Sept. 12 in the Emmanuel College Saints Invitational at George Wright Golf Course. Out of the four colleges that competed in the match, the Rams finished second with a final overall score of 328. Wentworth Institute of Technology's team score of 320 beat out the Rams by just eight strokes.
Second place did not seem to be enough for the Rams as the team would score a first place finish in the second match of the season, the Emmanuel Invitational on Sept. 27. Senior Patrick Hennessy, junior Stephen Ferrante and sophomore Owen Boggini individually all tied for second place with a score of 75.   
On Oct. 8, the Rams played the first two-day competition of the season in the Blazer Fall Invitational at the Orchards Golf Club. With a larger pool of competition, Suffolk finished the match in eighth place out of 16 teams. Over the two days, the Rams ventured across 36 holes and finished the match with a combined team score of 631.   
"I believe we played up to our expectations [in] the Elms tournament," said junior Daniel Caissie in a recent interview with The Suffolk Journal. "We were able to beat and closely compete with teams that used to give us trouble in the past."
Caissie said that he believed this tournament set the tone for the team heading into the upcoming GNAC Championship.
"So far this season I believe we've done really well," said head golf coach Ed McMellen in an interview with The Journal. "What [the team] has been doing and what they've been practicing has been showing in the play."
McMellen said that compared to previous teams, this group had been different from the rest.
"We're a little deeper this year, there's a lot of competition within the team to get one of the top five spots which I think makes us stronger and better," said McMellen.
McMellen explained that this season there is a massive amount of talent on his 11-man roster. He said that instead of having a team where the same players reach the top spot each match, different players are constantly competing to be in the number one position.
Ferrante explained that his teammates are a tight-knit group and often turn to each other for advice.
"As for the reason to our success, a lot of the credit goes to the younger guys," said Ferrante in an interview with The Journal. "They come day-in and day-out, consistently posting good scores and that's what it takes to win out here."
With the GNAC Championship at the Valley Country Club in Rhode Island approaching on Oct. 14, Ferrante said he has high hopes for his team.
"With the GNAC coming up we are just trying to keep doing what we're doing and stay loose," said Ferrante. "As long as we keep working hard there's no reason we shouldn't be able to take [the championship] home."
McMellen said that the team will have to face some tough competition such as Rhode Island College, but he expects nothing but a positive outcome.
"I think we can possibly have out best finish ever," said McMellen. "I'm looking forward to that and we'll see how we do."
McMellen explained that the key to keeping this team on a successful path is making sure that each player goes out onto the green with a great deal of confidence.
"When they hit a bad shot, they need to block that out of their mind. It's more of a mental thing than a physical thing," said McMellen.
In his 15th season of coaching the Rams, McMellen has high hopes that his team will finish the season out as champions.
"It will be tough but I think it's a possibility," said McMellen. "Realistically I think they do have a pretty good chance [in the GNAC]."
Leave a Comment
About the Contributor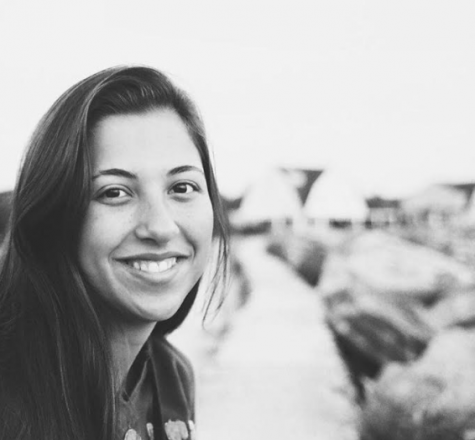 Hannah Arroyo, Sports Editor | she/her
Hannah Arroyo is a junior, the Sports Editor, and a Broadcast Journalism major who hopes to work in sports media someday. She passionately follows New England sports and can often be found exploring new spots in Boston. She enjoys going to Fenway Park, searching antique stores and pranking her friends. By writing for The Journal, she hopes to improve her journalism skills and eventually explore writing stories that differ from sports.