Crystal Fighters deliver spectacular display of sound, color
In an explosive and turbulent display of sound and color, the Crystal Fighters brought a passionate show to the stage of The Sinclair in Cambridge, Mass.
Beginning with a set stage that was complete with a mish-mash of percussion, string and electronic instruments, the show was shrouded in mystery before the band members had even taken the stage. Every inch of the Sinclair's mainstage was covered or entangled with leafy-vines or an oriental-patterned rug or cloth. This makeshift jungle atmosphere cast a transformative spell over the audience and shifted into what can only be described as an out of body experience and a celebration of life, love and family.
The London-based band recently released their third studio album last year, "Everything is My Family." Complete with uplifting beats and a particular penchant for delivering handcrafted lyrics dedicated to life and love, the evening featured select tracks off of the album including "Lay Low," a tribute to their previous drummer who had recently passed away. An uplifting song that serves as a gentle reminder that life has fleeting magical moments, and to accept them as they happen and to remember them when they're gone. Also falling in line from "Everything is My Family," were hits "Yellow Sun" and "Good Girls" which contributed to the dance-party atmosphere and drew movement out of the crowd, resulting in overall animated audience members.
In a spectacular display of beating drums with a small cameo from a conch shell that was played like a ceremonial horn, this show had the energy potential that should leave the Energizer Bunny with sense of job insecurity.
Prior to Crystal Fighters riveting show was a rousing performance from opening act "Machine Heart," whose sound could be compared to a spun-out Lana Del Ray album. A short set chock full of soulful vocals, the four-person band was a huge stage presence. Featuring psychedelic lighting and compelling, hauntingly beautiful lyrics, Machine Heart has the kind of addicting sound that keeps audiences begging for more.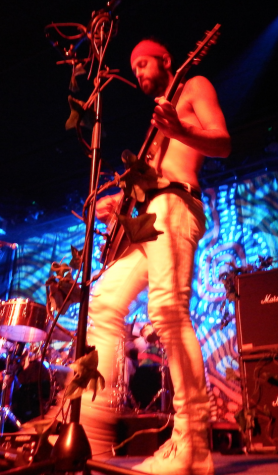 Crystal Fighters will be traveling down the East Coast, finishing the leg of their North American tour in Washington, D.C., before jetting off to Europe to continue performing.
For more photos from the live show, visit our photojournalism blog.
Leave a Comment
About the Contributor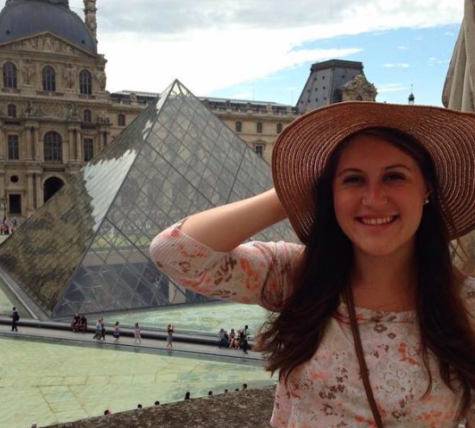 Felicity Otterbein, Past Arts Editor
As a member of the Best Friends of Friendly's Ice Cream Club, Felicity enjoys not taking life too seriously. She appreciates all walks of life and accepts all those who are willing to share a smile. 
As the Arts Editor, she enjoys uncovering new music and discovering the hidden gems of the Boston and Suffolk arts communities.  She enjoys supporting both her friends and university by attending and reviewing Suffolk-based art by featuring the array of talent that can be found on campus.
She prides herself on her uncanny ability to document every waking moment of her dog, Shadow, and can most always be found with an iced coffee in her hand. If you're looking for her, she's usually at her desk inside of The Journal office watching SNL reruns or galavanting through the Isabella Stewart Gardner Museum.