Softball swings into new season, catches warm weather
After finishing last year with the winningest season in Suffolk softball program history with a 33-9 record, the Lady Rams kick off their 2017 campaign in Arizona in early March for some spring training action at the Tucson Invitational.
This is the first time that Suffolk's softball team has traveled to Arizona in their 33-year program history. The Rams will play five double headers starting March 11 versus Central College and ending March 16 against Dickinson College.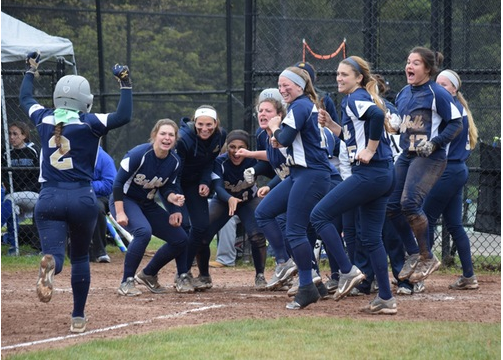 Five-year Head Coach Jaclyn Davis said that the team has been preparing to face some "fierce" competition in the Copper state. The Lady Rams are in their fourth week of a six-week process of training that includes working on fitness, skill development and team building.
"It's the nature of the sport and the nature of weather that we start somewhere warm," said Davis in a recent interview with The Suffolk Journal. "We've never been to Arizona before. We just want to try something different.
In Arizona, the Rams will also face teams such as the University of Puget Sound, Stevens Institute of Technology, Greenville College and Hamline University.
"There's some really good competition out there [such as] some regional competition that we don't normally," said Davis. "I think that will be important to us both in terms of preparing for conference play, but also so that people start to understand who we are and that we can compete a high level with teams that are in other regions and in other parts of the country."
Davis officially announced this seven-day spring training trip along with their 40-game full regular season schedule that features eight double headers at East Boston Memorial Park. The Lady Rams play their first game back from Tucson on March 24 away versus Emerson College. The schedule includes eleven Great Northeast Athletic Conference (GNAC) double headers.
Since Davis' coaching era at Suffolk, the team has played consistent softball and improved their program record. Her first season with the team resulted in a losing record of 16-25. Just last season, the Rams succeeded in doubling that number of wins with a record of 33-9. In 2016, Davis was also awarded with the honor of GNAC Coach of the Year.
"I think what we're trying to do is really trying to make this season sort of its own separate entity," said Davis. "While we are really proud of what we did last year and we really appreciate how much it was celebrated by the university, it's almost like you can't take it with you."
Davis said that what she meant by this is the team cannot let the results of one season effect the next. She said that it is important that her team doesn't take anything for granted and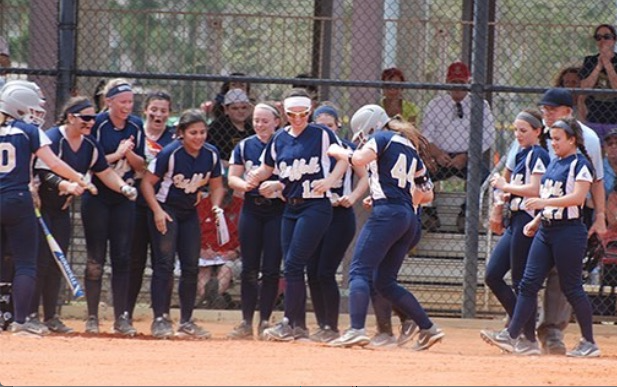 keeps working hard every day to be successful each season.
Davis explained that this year the team's biggest challenge will be facing Johnson and Wales University (JWU) because they are well coached  and have good talent. In the past few years, Suffolk has won the regular season and JWU has won the conference tournament. Davis also said that this season, she hopes for her team to win in both of those categories.
"I think that you can absolutely expect to see a bunch of hungry softball players. They want to be successful so badly not only for themselves and me, but for the university," said Davis. "I wish more people could be there to watch them play, because they really do leave it out on the field every single day."
Suffolk's 19-roster team remains nearly the same this year as they only graduated two seniors last season. Captain and junior Lindsay Pagano said that the team's chemistry has been building up through team events like getting together for suppers and events. Pagano said that she knows people are going to expect a lot from her team this season.
"Our [33-9] win season was such a feat last year and obviously we hope to surmount to that or pass it this year," said Pagano in a recent interview with The Journal. "We're looking to those returners to come back with strong seasons and help lead us back to that winning record."
This season the team also added four new freshmen to their roster. As a captain, Pagano said that she and her team have helped to make sure that these new girls not only adjust to the pace of the game but play better together as a team.
"With only four freshman it was not that hard for us to get to know the upperclassman with the amount of time that we have spent together since September," said freshman outfielder Samantha Jacques in an interview with The Journal. "I think we have a very strong team chemistry. On and off the field everyone has each other's backs."
Junior outfielder Sydney Littlefield said that regardless of her team's record they just hope to go win the GNAC this year. She said that they have been one of the most successful teams in Suffolk Softball and that their success would not be complete without a title.
"We have worked really hard to be in the position we are at, and we feel that if we continue to grow as a team we are capable of playing long after our spring classes are over," said Littlefield in a recent interview with The Journal.
Leave a Comment