Vice President looks to put up a fight: Gazzani champions diversity, ideological balance
Hang on for a minute...we're trying to find some more stories you might like.
As Vice President of Suffolk's Student Government Association (SGA), Venezuelan international student Daniel Gazzani has experienced first-hand the responsibilities an executive board member of SGA faces on a day-to-day basis. In his campaign for SGA President, Gazzani has planned to tackle objectives of class registration, campus safety and student involvement within the vital issues at Suffolk University.
Gazzani said a top priority of his if elected SGA President is to seamlessly transition from the exiting administration to his own, picking up right where SGA will leave off at the conclusion of the spring semester by addressing all issues of the student body. With the premises for his initiative objectives rooted in his campaign for Vice President, Gazzani said in an interview with The Suffolk Journal on Tuesday he has sought to build upon the groundwork he has laid as a member of SGA, in order to give back to the university.
"I want to keep enforcing those ideals and accomplish those promises that I made to the student body," said Gazzani. "I have faith that the student body will make the choice that they feel in their heart is the right one. I've worked hard as vice president and I hope that people can notice that, and I'll keep campaigning hard and making sure people know what I have to offer to the students within my University."
One concern of Gazzani's is the stability of Suffolk as a whole, and the current SGA vice president said he is troubled by the office of Suffolk University's president. Multiple presidents have quickly moved in and out of the highest office at Suffolk, and Gazzani said this has affected the value of graduating students' degrees. Gazzani also expressed concern of the questionable timeline of the Search Committee's efforts to find the university's next leader.
"We come to a college, we pay a very high tuition that keeps increasing every year, but the quality that we're getting back is not," said Gazzani. "It's something critical that we have to address."
Suffolk's international population is a forefront of Gazzani, who is able to attend the university off of a student visa. The vice president said one of the prevalent issues he would like to address as SGA President revolves around the safety of Suffolk's diverse community. In regards to international students affected by President Donald Trump's recent executive order placing certain countries under an immigration ban, Gazzani said it is critical that students constantly feel safe in their own campus. He applauded Acting President Marisa Kelly's statement on behalf of the university, which had expressed solidarity with those affected by the ban.
Gazzani also said security on campus has done a exceptional job, but need to be vigilant and perpetually improve. This is said can be in the form of continuous trainings for Suffolk's police force, as well as diversity trainings for the entire university community are factors that promote the safety of those on campus.
"I think what the administration needs to keep doing is promoting a cultural exchange, and keep saying we are proud to have students from so many different backgrounds," said Gazzani.
Working with Gazzani as his campaign manager and SGA class of 2017 senator John Medlinskas, as well as special advisor and junior government major Ian Kea. Of the two, Gazzani said their passion is what he loves about them. With Medlinskas being the current president of Suffolk's University Republicans and Kea a very strong liberal, Gazzani said he chose these two specifically for their stark contrast in ideals. In an interview with The Journal late Tuesday afternoon, Kea discussed Gazzani's fair-minded stance.
"He doesn't take pride in being right. He doesn't really have a sense of pride. He has a sense of passion, and a sense of will and a sense of caring," said Kea.
Medlinskas had helped Gazzani with his campaign for vice president. In an interview with The Journal on Tuesday, Medlinskas said that his contributions to Gazzani's campaign involve speaking with students to gauge their interests, wants and needs, and market what they want.
"His motivation is for the better of the school not for the better of himself," said Medlinskas. "I wouldn't have helped him if I thought he was doing this for some other reason."

About the Writer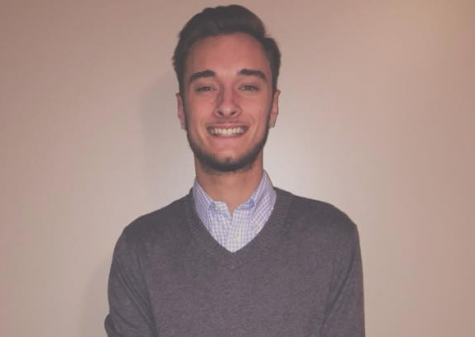 Chris DeGusto, Past News Editor
As someone who truly has no idea exactly what he wants to do in life, Chris' desire is to help those he cares about achieve their dreams. Chris welcomed...