First round of nominations for SGA's executive board in, campaigns soon to follow
Hang on for a minute...we're trying to find some more stories you might like.
Two members of Suffolk's Student Government Association (SGA) were nominated for the position of the next president during last Thursday's meeting, junior and Chair of the Diversity Committee Devarth Dixit and junior and current SGA Vice President Daniel Gazzani. In this first round of nominations, there were two nominations for Vice President, class of 2018 Senator Levi Smith and class of 2020 Senator Yasir Batalvi. For the position of secretary, class of 2018 Senator Kim Ginsberg and class of 2019 Senator Morgan Robb were nominated, and for the position of Treasurer, former SGA finance committee member Logan Trupriano was the only one nominated last Thursday.
Due to current position holders President Sean Walsh, Secretary Brianna Silva and Treasurer Cameron Viola scheduled to graduate at the end of the spring semester, each of these three roles on Student Government Association (SGA) will need to be filled as a result of the elections.
In addition to these leadership roles, senators for the class of 2019, 2020 and a senator-at-large for diversity are also offices that will be looked at to be occupied. Walsh will be in charge of conducting the election, which will have finalists after Silva meets with the nominations committee on Mar. 1 to make these selections
Dixit, who said that his nomination was not necessarily surprising to him in a post-meeting interview with The Suffolk Journal, explained that he is excited for the elections and eager for his campaign.
"I feel that after devoting two years to SGA, I am ready to take on that role [of president] now," said Dixit. I'm excited to see how things go, and I'm really excited for the elections. Considering me and Dan are really good friends it's going to be a nice and clean one."
Dixit is on board with how SGA is currently being run, but does have a set of goals that he wants to work on as a member of the student government association, expressing that he wants SGA to be a "louder" voice of the students.
"I feel like we should side with the students first considering we are the student government association," said Dixit. "When it comes to where we have conflicts, with the faculty for instance, or basically anything, I think we should side with the students considering we are their voice, and the largest organization on campus that can kind of resonate [the students'] voice. I just want to be a louder SGA of sorts, and have a bigger impact on students."
SGA is "the voice of students on campus" according to the university's official website and claims responsibility "to make sure that the faculty, administration and trustees of the University hear and understand the opinions and ideas of students."
Gazzani, who also accepted his nomination to campaign for President, said in an interview with The Journal on Jan. 31 that collaboration and constructive feedback are important elements SGA members continuously need to have with one another.
"That doesn't mean to shy away from the fact that when somebody does something wrong, you have to call them out," said Gazzani. "At the end of the day it is that teamwork that is going to allow you to learn from your mistakes and hopefully perfect yourself and improve from that so you can accomplish whatever you are set to do."
Gazzani said that SGA partnering with Suffolk's upper administration is key to handling critical issues regardless of who wins the student government elections. While SGA executive member campaigns begin in the coming weeks, the university continues to hunt for a new leader as well. Gazzani said he believes SGA needs to be in the president's office on their first day of assuming this role at the university.
"As soon as the new president takes office, I think we should be right there that day making sure we brief them of everything that has been going on, letting them know what our student's concerns are," said Gazzani.

About the Writer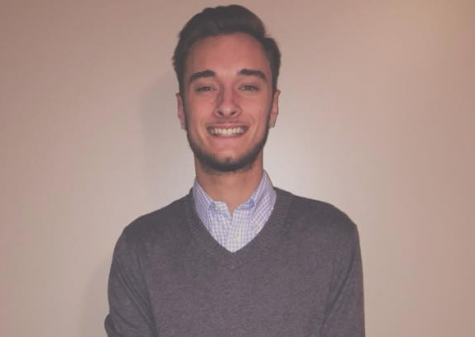 Chris DeGusto, Past News Editor
As someone who truly has no idea exactly what he wants to do in life, Chris' desire is to help those he cares about achieve their dreams. Chris welcomed...