Rams charge final three, Hagopian breaks record
Not only did sophomore guard Michael Hagopian break Suffolk University men's basketball record for most points in a game once, but he later surpassed his own record.
Hagopian has played in almost every game so far this season and has scored 30 plus points in two back-to-back games, one against Rivier University where he broke his own record with 36 points. In the 2015-16 season, the highest amount of points that Hagopian had scored in one game was 14. This season he has recorded more than 14 points in seven different games.
"I was in another zone, playing with a lot of confidence," said Hagopian in a recent interview with The Suffolk Journal. "This is something that I have pictured for so long, and worked so hard for, so to see it happening right now is an amazing feeling."
Hagopian said his teammates and coaches could account for the great deal of confidence he has on the court. He explained their encouragement keeps him going and that he works hard not only for himself, but for all of them.
The Rams currently hold a record of 6-15 as play their last three games in the regular season this month. The Rams struggled early in the season as they had a total of two wins in the months of November and December combined.
While the team's record may show they have few wins, many of their losses have been way too close. On Nov.  22nd,  the Rams lost to Emerson College by just six points. This was also the case when the team lost by three points to St. Joseph's College on Dec. 3.
Hagopian said the team's biggest challenge this season has been not starting each game with enough energy and therefore losing close games. Despite the team having more losses than wins, Hagopian has showed how ready he is to play each game.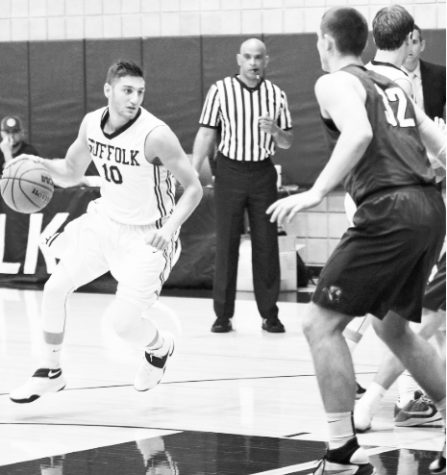 Suffolk's first victory of the season came off a 64-48 win against Wheelock College. As the team nears the end of the season they find themselves with three conference games to play going head to head against Johnson and Wales University, Anna Maria College and St. Joseph's College.
"To prepare for the last stretch of the season, we are bringing energy to each practice, and taking this last stretch one game at a time," said sophomore forward Steven DiPrizio in an interview with The Journal last thursday. "There have been a lot of learning experiences for the entire team, and we are striving to get better and play to our potential every possession on the floor.
Suffolk started this month off with a 86-62 victory versus Rivier University on Feb. 1st. This was their second straight big win as they had previously won their last game to Anna Maria College 78-64 on Jan. 28.
At the Rivier game, Hagopian opened the scoring for Suffolk notching back-to-back triples. Suffolk showed no mercy and had an early lead of 12-4 at 4:28 into the match. Hagopian could not be stopped as he scored the last 14 points of the first 20 minutes and the Rams 45-36 lead at halftime.
After the half, Suffolk continued to dominate as they established a 20-point lead with the game at a score of 64-44. The Rams continued to roll over Rivier and ended the game with a final score of 86-62. After setting a career record of 34 points in his previous game versus Anna Maria,
The Rams ended the game with 40 rebounds, 22 assists and a 54.9 shooting percentage. Game leaders of the night were freshman guard Thomas Duffy with 12 rebounds and sophomore forward Kevin Querusio with 10 assists.
DiPrizio said his coach is the most prepared he has ever seen and before every game each player is familiar with their opponent's motions and style of play. He explained his coach motivates each player to play not only for themselves, but each player by their side.
"Coach [Jeff] Juron makes sure that we have success both on and off the court, and demands the best from us on the court, as well as in the classroom," said DiPrizio.
Coach Juron has not responded to communication with The Journal regarding this article as of Tuesday night.
With the end of the regular season concluding on Feb. 18 at Saint Joseph's College in Maine, sophomore guard Jim Djema is hopeful for what the future of the program holds.
"I see success [for] this team. We have many years together and a very hungry group of guys," said Djema in an interview with The Journal on Sunday. "They enjoy grinding day in and day out and with that type of work ethic, you will get nothing but success."
The Rams play their next game on Feb. 11 at home versus Johnson & Wales University at 3 p.m.
Leave a Comment