Women's March echoes opposition against Trump and fight for equality
On an unusually warm January afternoon, thousands of women flooded Boston Common in a response to the recent inauguration of now President Donald Trump. Decked in shades of pink and running on adrenaline, women young and old took comfort in the massive movement of solidarity.
Agnes Wyatt of Worcester told The Suffolk Journal that she had arrived on the Common at 8:30 a.m. to get front row spots at the main stage of the walk. The pair toted signs that read in latin, "Hoc est enum corpus meum," which originates from the Roman Catholic mass and according to Wyatt translated to, "for this is my body."
"I did a series of paintings on sky pilots as bishops, and bishops have a lot of power,"
said Wyatt. "It's a feminist theme of course, and I have the crosier pointing inward on my sky pilot, a feminist statement, to bring the power to the woman. Whereas normally, a bishop would have the crosiers pointed outward towards the people to gather the flock of sheep. This is a statement about women's issues and reproductive rights which I think we need to pay attention to."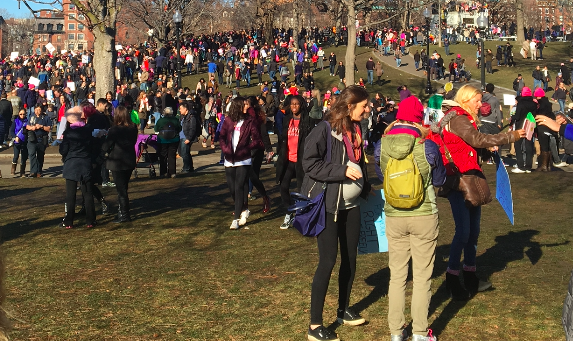 According to Wyatt, the crowds of people were convivial, "I have goosebumps thinking about it. It was so renewing, I kind of thought that this has been the best thing to happen to the women's movement since the seventies. I thought the women's movement stuff had kind of faded out but this renews my faith, and as a card carrying member of the National Organization for Women, I am absolutely enchanted."
Others like Wyatt took to the Common as a means of protest. Toting signs which depicted drawings of female genitalia with quotations from some Trump's more notable campaign speeches, as well as signs depicting stances on issues regarding abortions and women's rights.
Earlier in the day, Senator Elizabeth Warren made an appearance to the crowd and uplifted the crowd with reinforcing statements regarding solidarity and resistance. Warren was quoted saying, "We can whimper, we can whine or we can fight back. We are here, we will not be silent, we will not play dead, we will fight for what we believe in."
Protesters Emily and River, who asked not to use their surnames,  marched in support of equality.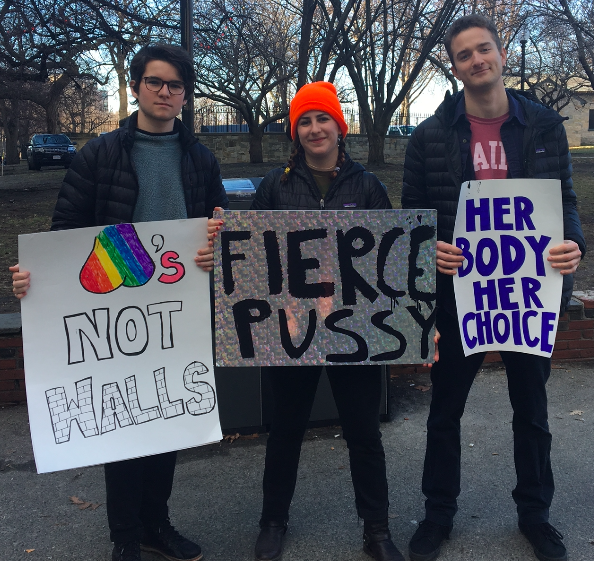 "We are marching for equality [and] equal rights for everybody. Women and everyone, and raising our voices against the Trump administration," said Emily.
River told The Journal that one of his main reasons for marching today was to express his support of LGBTQ rights.
"As a trans man, I think it's really important for my feminism to show now more than ever because I've experienced both sides of being treated like a woman and also feeling male privilege in a way that I never have before," said River.
As one of the more prominent themes of the afternoon, many people held signs and chanted for the ongoing persistence toward fighting for equal rights and the non-discrimination regarding for the LGBTQ community.
Mayor Marty Walsh also chimed in with his own statements regarding the LGBTQ community, referencing the fact that Massachusetts was the first state in the country to legalize and honor same-sex marriage.
"We are going to be the first state in the country to fight back in Washington when they start to go after different things that affect so many different people. We're going to stand up, we will fight, we will take this fight from Boston Common to the mall in Washington to let the President know that he's supposed to represent all of us."
While LGBTQ voices rang out in protest, other voices used the march as a platform to raise awareness toward matters regarding climate change and immigration. Amongst these voices, members from the United Church of Christ came together to raise awareness for the ongoing debates surrounding climate change.
"The climate is something I feel really strongly about, and choice and immigration. I feel very strongly about all these issues and feel like they're very threatened. I've felt a lot of grief since this election so I wanted to stand with these people in solidarity," said one of the spokeswomen.
"I feel encouraged to stay active, to be active, to keep watching and to keep doing what I can and to know that I have a lot of company in that, it's very moving to see all these people together, it is a wonderful feeling of hope and love."
Leave a Comment
About the Contributor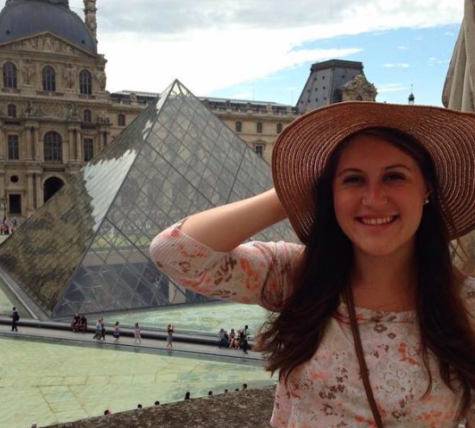 Felicity Otterbein, Past Arts Editor
As a member of the Best Friends of Friendly's Ice Cream Club, Felicity enjoys not taking life too seriously. She appreciates all walks of life and accepts all those who are willing to share a smile. 
As the Arts Editor, she enjoys uncovering new music and discovering the hidden gems of the Boston and Suffolk arts communities.  She enjoys supporting both her friends and university by attending and reviewing Suffolk-based art by featuring the array of talent that can be found on campus.
She prides herself on her uncanny ability to document every waking moment of her dog, Shadow, and can most always be found with an iced coffee in her hand. If you're looking for her, she's usually at her desk inside of The Journal office watching SNL reruns or galavanting through the Isabella Stewart Gardner Museum.