U.S. Army veteran goes the distance
David Campisano, 34, joined the United States Army back in Sept. 2001, prior to his attendance at Suffolk University. Transitioning to the university was not an easy task for the Army veteran. He said he was honored to not only attend Suffolk, but also compete for the cross country team.
"It is difficult to talk about the transition," said Campisano in an interview with The Suffolk Journal. "I have been fortunate where I was discharged and transitioned right into college. I feel so lucky how the timing worked out perfectly and the people I have met have made a huge impact on my life."
Campisano, a junior at the university, started running cross country, but said he was unsure of how the whole sport worked. Campisano said he knew it was a matter of running fast and winning. The Staff Sergeant (SSG), E-6 rank in the U.S. Army never actually won a race that he competed in, but he did obtain several personal records. At the start of the season he finished races at a time of 30:28, but as the season progressed, and Campisano competed in the Greater Northeast Atlantic Conference (GNAC) Championship, he found himself with a personal record of 28:48.
As a young boy, cross country was not on Campisano's mind, but joining the U.S. Army was. He began his basic training 16 years ago at Fort Benning, Ga.
"I was getting my first military ID photo taken when the first plane hit the World Trade Center." said Campisano.  "I remember it like it was yesterday, I knew I was going to war."
Later on in his military career, in 2008, Campisano was selected to compete for the All -Army Triathlon team in California. He later attended the U.S. Army Airborne School, Ranger School and eventually found himself in Iraq.
"When I returned from Iraq, I decided I wanted to be a Green Beret and spent two years in the Special Forces Qualification Course where I learned Spanish, attended Survival Evasion, Resistance and Escape School (SERE-C) and went to the Special Forces Communications Course," said Campisano. "I didn't graduate because I hurt my back jumping out of planes and had to leave the Army."
On Aug. 1, 2016 Campisano was discharged from the Army, and is no longer on active duty. He sent an email to Douglas Peterson, an associate registrar at Suffolk University, who then helped him make his choice to attend Suffolk.
"Everyone has been so helpful. I feel extremely lucky to have the privilege to be a student and an athlete here," said Campisano. "I wish the students here could understand the opportunities they have and take advantage of it."
Campisano said he had to make the change from being an active member in the military to being a student athlete. He said how he was so accustomed to living a structured life that when he joined the cross country team some things came as a shock to him.
"When I look around Suffolk, in my classes and on the cross country team I see the same faces I see that joined the Army," he said. "The difference is that rifles were issued instead of books.                                                 
Campisano was used to receiving instructions and executing them in a disciplined manner. Because he was so accustomed to this sort of lifestyle, he said how it made it easier for him to adapt to having a coach and following his instructions. Being a part of a team was a new aspect in Campisano's life, but he explained how meeting up with his team at the Charles River for practices was one of the best parts of this season.
"We would all sit on the bleachers and discuss what we thought Coach Peterson's work out was going to be," he said. "Coach would always have us do a ten minute warm-up run before our actually main work out, and we all just shoot the breeze and talk about our day. It was kind of
therapeutic."
Campisano compared how he served as a member in the military to being a student athlete.
"You have to be in better than average shape to be in the Army Infantry and attend advanced training, like the Special Forces," he said. "You train daily to become a better soldier just like you run daily doing specific training to become a better runner."
Key members from both the women's and men's cross country teams sustained devastating injuries earlier this season, but Campisano remained hopeful and is also optimistic for next year.
"We are a young team and we need more athletes to run with us," he said. "Hopefully recruiting goes well in the off season and we have more athletes to compete next year."
Campisano is not a member of the team that just shows up. Whether it is in practice or during a race, he strives to do well.
"I want to win," he said. "I go into every practice and race with that same mentality. I'm aware what is realistic and what is not, but my goal is to win."
Leave a Comment
About the Writer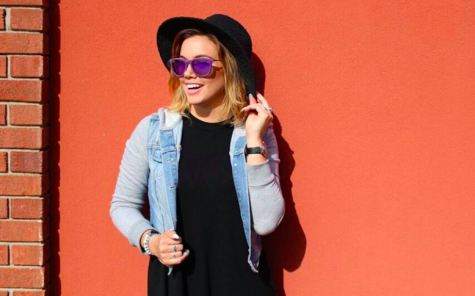 Brooke Patterson, Past Sports Editor
As a senior majoring in Journalism Print/Web, Brooke Patterson strives to not only bring a positive light to her stories, but also those around her. Despite the fact that her sports career has ended, Patterson remains involved with her love for athletics through The Suffolk Journal as the Sports Editor. She is currently exploring life in the city of Boston and will never hesitate to stop to pet a dog as they walk by her. Although Boston will forever be her home, Patterson hopes to explore and use her degree in other cities, such as New York and Los Angeles.