Parker completes first season as head of a new team
After coaching the Suffolk Ram's baseball team for 20 years, Jay Parker has hung up his cap and picked up his club. As the program's first ever head coach, Parker and the women's golf team completed their first season this fall.
The five-member roster finished the two-tournament season on Oct. 16 and competed against other institutions at Rhode Island College at Valley Country Club in Warwick, R.I.  
Freshman Aine Dillon and Kailee Santos had the opportunity to represent the women's golf team at New York University (NYU) in an all-day invitational on Oct. 15-16.The tournament took place at Forest Hill Field Club in Bloomfield, N.J. Dillon finished day one with a 96 and day two with a 97, which placed her at a 43rd overall ranking. Santos finished day one with a 114 and day two with a 231, placing her in 55th.
The last three matches that were scheduled for the Lady Rams got canceled due to weather conditions. The team warmed up for their double match with Johnson and Wales University (JWU) and Castleton University, but unfortunately, were later told that they would not be playing their match that day.
In an interview with The Suffolk Journal on Thursday, Jay Parker spoke about the highs and lows of the Lady Rams first ever season.
"For highs, there was definite improvement in the girls from day one. Between the six weeks of practice and their attitudes as well,"  said Parker. "Now they know what to expect from me as a coach. They've had almost two months with me."
As far as lows, Parker did not see many for the team, besides the inclement weather that prevented them from properly finishing their season.
Parker explained that this will be the end of the fall season for the team, but they will start back up when come spring.
"I'd like to get a few wins. The teams that we were playing, we were very competitive with, so we could've won a couple, which would've helped [to help] the girls," said Parker on his expectations heading into next season.
As the women transition into their spring season, they will start off-season training. Conditioning for the women's golf team will focus on core work, leg work, stretching and flexibility.
Parker said, "I love how much people don't realize how much exercise actually goes into [golf]."
He has arranged for a trainer at an indoor facility to test and train the girls.
"Technically I am not allowed to see the girls in golf activity until February, as far as coaching," said Parker.
The team will start practicing for their spring season come February 2017.
Spring will be a new season for the Lady Rams. The team will have a different schedule, as they will play four matches in order to remain sponsored by the university. Although their schedule is not finalized, Parker told The Journal that the student-athletes will have a tournament this spring in Cape Cod, Mass. He also said that they are already planning ahead for next fall and have three tournaments scheduled.
The upcoming season may face difficulties with finding courses to play at. Many golf courses do not open in the spring and the team has to be finished by the end of April.
"We need to get more girls. We have basically been playing with 3 full-time girls," he said.
The women's golf program was put together quickly at the beginning of fall, so the team's roster fell short after the university's athletics department announced the expansion of women's golf, along with men's and women's indoor and outdoor track and field and women's hockey. Parker along with the Lady Rams plan to reach out to people, especially the student body, in order to recruit more girls to expand their team.
Leave a Comment
About the Writer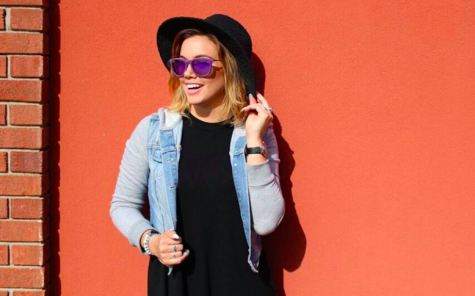 Brooke Patterson, Past Sports Editor
As a senior majoring in Journalism Print/Web, Brooke Patterson strives to not only bring a positive light to her stories, but also those around her. Despite the fact that her sports career has ended, Patterson remains involved with her love for athletics through The Suffolk Journal as the Sports Editor. She is currently exploring life in the city of Boston and will never hesitate to stop to pet a dog as they walk by her. Although Boston will forever be her home, Patterson hopes to explore and use her degree in other cities, such as New York and Los Angeles.