Suffolk's next freshmen sensation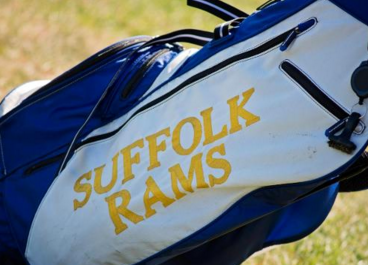 When freshman Demetrios Stamoulis lined up his TaylorMade driver at the Emmanuel Invitation Tournament last weekend, he did not expected to contribute much. Shooting from the fifth roster spot out of five, this weekend was meant to be a learning experience for the 18-year-old Manchester, N.H. native. After posting the second best score of the entire field and leading his team to victory, he has  gained quite a bit of experience outside of the classroom.
Stamoulis took home the Great Northeast Athletic Conference Rookie of the Week honor for his stellar performance.
"It's pretty cool to win Rookie of the Week, but I want Player of the Week," said Stamoulis. "I'm not done."
Embracing the team-first mentality set by coach Ed McMellen, Stamoulis' main goal is to help the Rams bring home something new for the trophy case.
"It's cool, but I don't really care about the individual awards," he said, "I'm happy as long as the team gets a win."
He credits his father for introducing him to the game of golf when he was 12-years-old. What started as a casual father-son bonding experience developed into a passion that he plans to pursue for the rest of his life.
"As I got older and could drive myself to the course, I went pretty much every day," said Stamoulis.
The mild mannered 18-year-old revealed the secret to his excellence in the short game, as well as what keeps him at top form.
"I chip and putt for an hour and a half most days, even if I don't play a full round. That's the key to staying sharp," said Stamoulis.
Even though he is known on campus for his golf skills, the freshman has realistic expectations about his career.
"I'm not going to go pro or anything," he laughed, "but it's something I'll definitely keep doing even as I get older. Golf's a perfect hobby because it keeps you active without being too tough on your body."
Aside from golf, Stamoulis has aspirations of applying to Suffolk Law School and using his degree to pursue a career with the FBI.
Senior Golf Captain Patrick Hambleton spoke highly of his new teammate and friend.
"The kid always has a smile on his face, even after shooting a bad round. That's why he's well liked by the whole team," he said.Hambleton said that the two have started to spend time together off the course whether it is studying in the library or watching a Patriots game.
Stamoulis praised his captain for doing a great job leading such a young group of men.
"He's the oldest guy on the team and he's been a great mentor for us," Stamoulis said.
After shooting a personal best of 72 at his favorite course, Dairyfield Country Club, in Manchester, N.H. this August, Stamoulis laid out his goals for the year, including to avoid shooting anything over 80, help his team win a few tournaments, and get better every day.
Looking to continue his recent hot streak, Stamoulis and the Rams will take on Eastern Nazarene College at 11:30 P.M. on Sept. 29 with the location to be announced.