Parker transitions from swing of a bat to a club
Jay Parker, who had been an assistant baseball coach at Suffolk University for 19 years, is now the first head coach of the brand new women's golf program within Suffolk's Athletics. There is much to establish with this new varsity team in order to guarantee its success. Parker believes that the women's golf team can achieve the pinnacle of success by winning a national title in the near future.
"We feel like women's golf at this school can win a National Championship," said Parker.
In an interview with The Suffolk Journal, Parker expressed his confidence in the team winning a title for Suffolk.
"We felt that right all along, it's the main thing for me taking over," said Parker.
His background within the sport of golf has brought him to a place where he can now showcase his knowledge and potentially pass it on to his players. During his teenage years in the late 1970s, Parker said that he used to be a caddy at The Country Club in Brookline, Mass., one of America's oldest country clubs, soaking in the atmosphere and watching numerous golfers. He gained valuable knowledge while being around the game early in his life, but did not begin sinking putts himself until after college in his twenties. After he was gifted clubs of his own from his parents at the time, Parker commented that golf was an addicting sport he instantly became passionate for.
Parker has coached baseball alongside the university's Athletics Director Cary McConnell for roughly 20 years, but his skills are not confined to this experience. Besides the diamond, Parker has been around golf in an instructional setting as well. He used to coach and assist young female golfers, helping them improve and hone their skills. Along with professional golfer Don Lyons, Parker taught ladies lessons on Thursday nights at the George Wright golf course in the Hyde Park area of Boston.
"Anytime there is a new program you can make your mark on it. This is my baby now," said Parker.
He now has the opportunity to etch a new era into Suffolk's athletics with this brand new team. He has taken this program under his wing and intends to foster its growth. His ultimate goals for the organization are clear, and his strategy for success starts with the athletes personally.
"It's not just about the athlete, but the individuals as well," said Parker. "What I'm trying to do to my players is to make them better athletes and better people."
While the competitive events are the centerpieces to any athletic program, Parker stressed the importance of a well-rounded athlete.
Head Baseball Coach Anthony Del Prete commented in an interview with The Journal on Tuesday about Parker's commitment to his players, as well as his coaching ability.
"Jay is a dedicated coach, who cares about his players, their well-being, and tries to maximize their performance. His work ethic has been unparalleled," said Del Prete. "When Jay gets involved in something, he really sinks his teeth into it."
Del Prete also recognized Parker's contributions to the baseball program and attributed Parker as part of the reason for the program being one of New England's most consistent baseball clubs. Del Prete also said experience in recruiting, as well as his motivational abilities, are important factors that will translate from the baseball program to golf.
Parker discussed how practices and lessons this season have accommodated his players' academic schedules. With the emergence of this new program, there was not much time to adjust the student-athletes' classes in respect to their sport. Parker acknowledges this issue and foresees its resolvement within future semesters. This adversity has not stopped Parker from finding times to work with each of the golfers prior to this inaugural season.
"These girls have learned that whatever we need to do, will get done," said Parker.
Overcoming these challenges is something that any new program or organization has to deal with. Parker described how he is limited as of right now but is able to develop and progress the elements he has control over.
"With a brand new program, there isn't a lot to do but work hard and have these girls compete at high levels," said Parker.
The women's golf team will open up their season on Oct. 2 against Rhode Island College. The time and location are to be determined.
Leave a Comment
About the Writer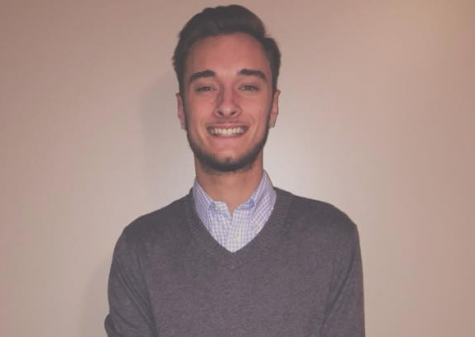 Chris DeGusto, Past News Editor
As someone who truly has no idea exactly what he wants to do in life, Chris' desire is to help those he cares about achieve their dreams. Chris welcomed a role that he never envisioned himself in; one that drives him insane.
Chris loves to tell stories, hence his passion: writing. If he's not in The Journal's office, you can find him catching up on the Sox or Celtics, studying the stock market or (unfortunately) riding the T to his favorite place in the world, Boston.
One day Chris hopes to write a book, well, actually finish a book he has already started. With a plan to travel the world and provide insight about his life experiences through his writing, Chris will always be attached to the city he calls home. And while he loves Boston more than anything, one reason why his book is not finished is because it doesn't have a suitable ending; he has a hunch that one day life will lead him to the west coast, to write him a new story.