Suffolk women's soccer starts with a streak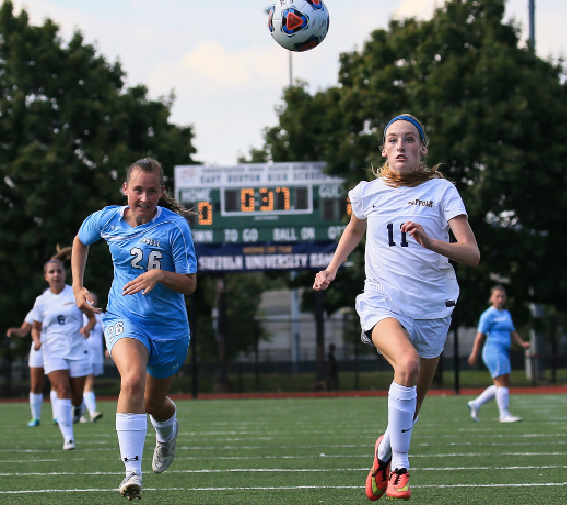 Suffolk University's women's soccer team has started the season off on quite a roll.
Last year the team ended with an overall record of 4-15. Kicking off last season, the team had only one win in six games. Their goals per game average was 1.05 and their opponents outscored them 64-20 in overall goals. After playing six games this year, the team already has four wins under their belt. After their last win against St. Joseph on Sept. 17, the girls were all smiles as they congratulated each other on a job well done. On the sidelines they not only gave each other tips on how to overcome players on the opposing team, but praised each other for good play.
The team started off the season with a 4-0 loss against Worcester Polytechnic Institute. They quickly shook off the loss and bounced back with a three game winning streak. Their first win came against East Nazarene College with a 1-0 final score. With six minutes left in the game one of the team's captains junior Alexandra Nagri scored the lone goal of the game lifting the team to their first win. Sophomore Kirsten Weiker earned her first career shutout in net and the team's first shutout since 2014. This game was also impressive because in the past four games against East Nazarene, Suffolk has lost.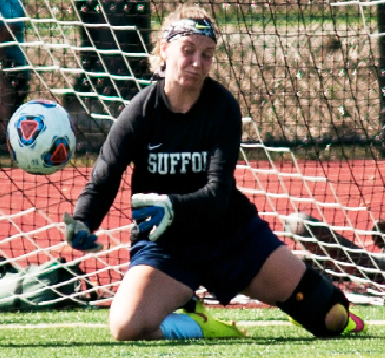 The team's second win came against Wheelock College in an impressive 9-0 win. This was the most goals that the team had scored in a game since 2012. It was also the second straight shutout that the team had posted. They started strong with five goals in the first half and finished strong with  four in the second half. Junior Jennifer Martin scored the first two goals of the game. The following goals in the first quarter came from junior Paola Ortez, sophomore Madelyn Whipple and Nagri. In the second quarter Martin scored two more goals. The last two goals came from sophomore Melissa Adamo and freshman Lorena Lorenzo. Freshman Jordan Pettograsso, not only started her first game, but tallied her first shutout.
Suffolk's third straight win came from a 5-0 score against Anna Maria College. This was the team's first game within their conference. Not only was this Suffolk's third straight win, but their third straight shutout also. Less than two minutes into the first half Martin scored the team's first goal and later on the last goal of the contest. This gave Martin back-to-back multi-goal games. Other goals came from Nagri and junior Jessica Harmon. Weiker started in net again and received her second career shutout.
Although Suffolk broke their streak with a 2-1 loss against Regis College on Sept. 15, they bounced back with a 2-0 win against University of St. Joseph in West Hartford, Conneticut. Starting in net, Weiker recorded another shutout, her third of the season. Martin opened the game with her seventh goal of the season and Nagri scored within less than two minutes to go in the first half. This game made the Rams 2-0 in their conference, their best start to the season in more than five years. All four of the team's wins have been shutouts.
Junior, Jennifer Martin, one of the team's three captain, has been playing for Suffolk for three years now. She said that last year the team did not have the same chemistry that they share now. She explained how last year everyone on the team had that one person that they always turned to for everything whether it be in practice or off the field. This season she said the case was different and that everyone turned to each other for guidance. She said that team's chemistry was the cause of their not so impressive record last season.
"No one wants to end up how we did last season," said Martin.
Martin says that the team's communication skills have improved, because of the tight knit bond that they all now share.
"This year I would say that friendship and communication are a huge thing," said Martin. "We didn't have to try really hard to become friends."
The team's first four wins have been shutouts, three of those coming from games that Weiker started. She currently has a .884 save percentage and has made 38 saves in the five games that she started. Weiker explained that much of her focus comes from mentally preparing herself before games.
"I'll sit and think about my technique and how to do it and try to calm myself down," said Weiker. "When walking onto the field before a game you have to make sure that your nerves aren't too sensitive. Hyping myself up with positivity is my pregame thing."
Kirsten said that time spent with their goalie trainer helps her and freshman goalie Pettograsso focus on their movement and timing. Practice helps her build on not only her weaknesses, but also her confidence.
"I want nothing, but success for my team, and in order to do that I have to be confident," said Weiker.
Senior and captain, Shannon Simmons, transferred to Suffolk her sophomore year. She was grateful to have played on the team for the past two years. Simmons said that right now the team is hopeful. She said that they are working extremely hard on the field to keep their record in a winning spot.
"We've not only playing for ourselves, but we're playing for each other," said Simmons.
Simmons believes that their coach, Darren Lloyd, is a perfect fit for the team. Simmons and her teammates believe that Lloyd is the reason for their complete turnaround this season.
"I mean without our coach we wouldn't be where we are today. Last year was a building year and he's definitely helped bring the team together," said Simmons.
Lloyd has been with the team for two years now. After getting a win against University of St. Joseph, he said that last year was a tough year of rebuilding. After losing five seniors last season, the team had a hard time learning to work together with a lot of new players. He said that this year the team has learned to work really strongly together. Lloyd talked about how nice it was to already have four wins out of the six that the team had played.
"This year has been fantastic. It's so nice to pick up wins and win streaks and we didn't have any shutouts last year," said Lloyd.
Lloyd said that he helped the girls make sure that their academics come first. Many of their practices are first thing in the morning instead of late at night. He said that this helps make sure that they stay on the right academic track. He sees a bright future for his team and hopes that they continue to be successful.
"The number one goal is to get into the postseason and hopefully shock a few people," said Lloyd.
Although the team has a 4-2 record they are 2-0 in games that have been played in their conference. This puts them in a better place to make it to the postseason for the Great Northeast Athletic Conference (GNAC) championship.
The team goes back in action versus Lasell on Sept. 24 at noon.
About the Contributor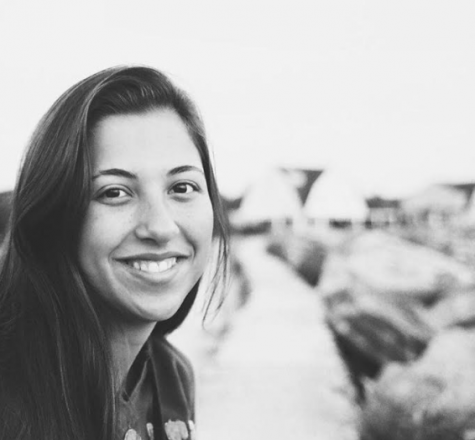 Hannah Arroyo, Sports Editor | she/her
Hannah Arroyo is a junior, the Sports Editor, and a Broadcast Journalism major who hopes to work in sports media someday. She passionately follows New England sports and can often be found exploring new spots in Boston. She enjoys going to Fenway Park, searching antique stores and pranking her friends. By writing for The Journal, she hopes to improve her journalism skills and eventually explore writing stories that differ from sports.