PAO finds its 'Identity' in latest production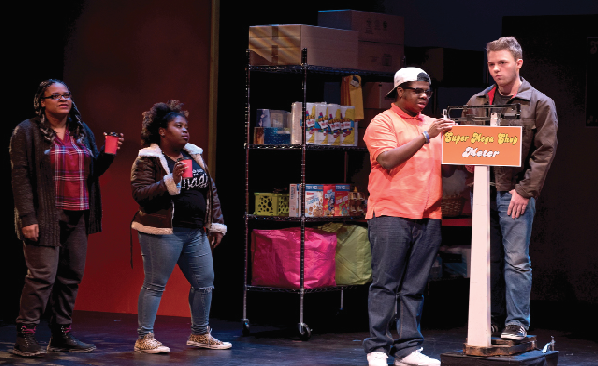 The Performing Arts Office enlightened audiences this past weekend with their newest entry of their annual Pioneer Performance Series. "Identity Crisis" followed a diverse group of patrons and employees at "Super Mega Shop Mart" on Black Friday as they face issues of race, gender, and sexuality.
At the opening of the performance, shoppers anxiously awaited the opening of Super Mega Shop Mart so they could get the best deals on their products. The production took an interesting turn, however, when customers were forced to stand on a scale and give up their privileges in order to enter the store. Characters had to decide which of their qualities, (ranging from class, education, and heterosexual privileges) to relinquish.
After sacrificing parts of their identities, the customers entered the store where they interacted with employees to find great savings — and find themselves.
Each scene served as a skit regarding a particular social or cultural issue. A cast member from a scene would break the fourth wall and talk to the audience about the issue when an alarm sounded and an orange spotlight shone on them.
The issues of race and gun violence featured prominently in a scene where the Super Mega Shop Mart Tolerance Officer (played by Suffolk student Ben Pompilus, who performed an original rap in the production) was casually looking through the aisles when he comes across a toy gun. He plays with it for a moment before moving onto other items of interest. But he is drawn back to it. He begins playing with it, even pretending to shoot it.
The Voice of the Super Mega Shop Mart comes over the store's intercom to announce that the Tolerance Officer, a black male, with the toy gun, should frighten no one and that no one should try to shoot him, a striking metaphor for police brutality and race.
Freshman Broadcast Journalism major Shennamu Kaine saw the performance twice because she felt it "captured issues that we're dealing with in this society in a serious and comedic way. It made me feel more open, and led me to ask questions and start up conversations with my friends."
One of the more memorable scenes of the show was a sequence in which customers and employees took turns sitting at a table in pairs while an onlooker told them, "You two would look good together," which was a hilarious depiction of sexuality. The pairs included, men, women, and two siblings from a set of triplets. The audience responded well to the performers, who reacted to the statement with facial expressions, eating, or leaving the table.
"Identity Crisis" lives up to its name. It discussed [some of] the serious issues in today's society, but at the same time, managed to keep the audience entertained," said freshman biochemistry major Betelhem Gemechu. "Every single member of the [company] brought life to the characters they portrayed."
The performance was received extremely well by audiences who enjoyed laughs at the eye-opening depictions of the world we live in today. While it is important to be able to make light of what is wrong with our society, it is also important to be aware of it and know how to handle and fix it. "Identity Crisis" summed that up best when a customer (played by Suffolk freshman Kane Harper) said to a store employee, "So, same time next year?" "I hope not," the employee responded.