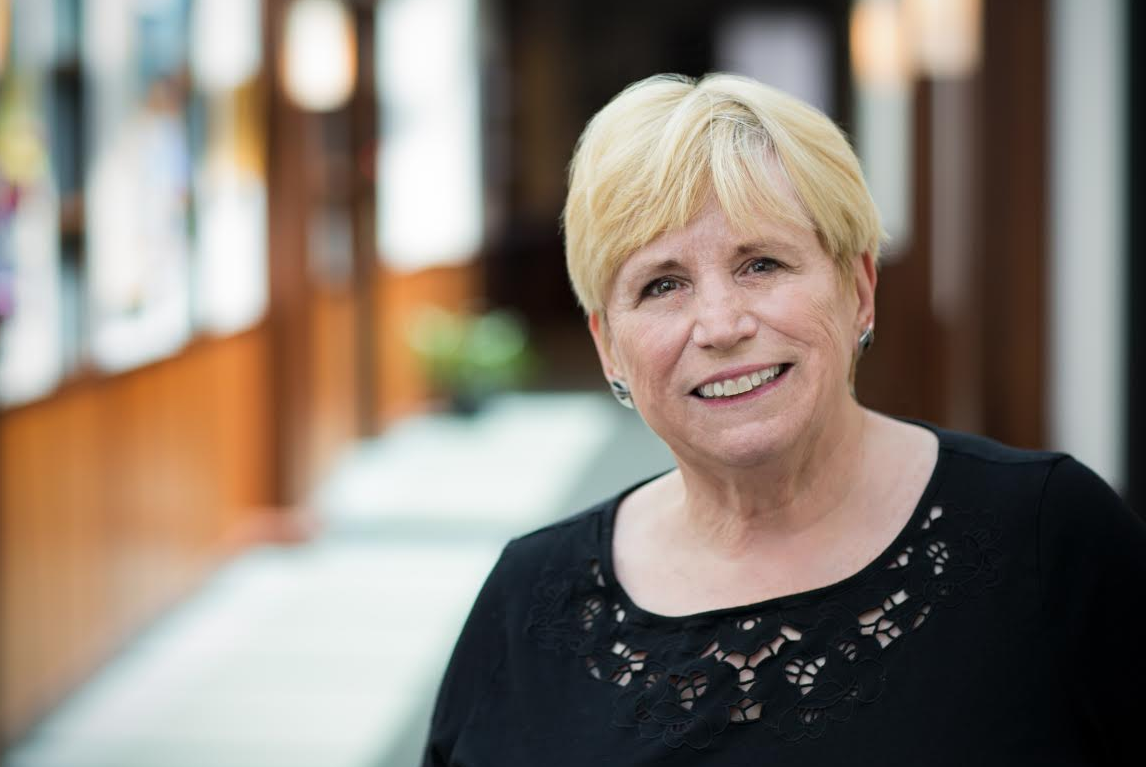 Suffolk University President Margaret McKenna is acting fast. In the wake of administrative turnover, building developments and adjustments to streamline the university, McKenna's student-centered mindset and decisions are coming into view.
In an interview with the Journal, McKenna spoke broadly of her vision for the university and recent decisions ranging from the reasons for the partial moratorium of new construction to the hunt for a new auditorium to replace the C. Walsh Theatre.
Initially an attorney who started her career in civil rights and former long-term president of Lesley University, McKenna's résumé speaks for itself.
As a proven educational leader and advocate for change, McKenna vows she understands the importance of being an accessible figure on campus and believes president-student exchange is mutually beneficial.
"Any new presidency has its challenges, and you want to learn as much as you can about everything, and I've been doing that and getting out and talking to students, faculty, department chairs, and alumni," said McKenna.
"You have to invite students to come in and be part of [the] community, and you need to support them," she continued.
However, Suffolk's current transitional state, both financially and academically, does pose a significant risk as McKenna undertakes an institution in the process of building up its reputation and financial standing.
Ending recent years with budget surpluses offset by big debt payments, a small endowment and declining enrollment, the university's fourth president in five years' initial work has been damage control and ensuring the university doesn't lose any more key assets.
Confident in her ability to tackle these initial hurdles and subsequently build on Suffolk's history, it's clear McKenna's work to redefine and ultimately capitalize on the university's niche is the crux of the at-will president's five-year commitment.
"I walked in here when there were a lot of things going on. We had just sold the Archer and Donahue buildings. So, one of the first things I did was extend the lease until May, and that was on my second day," shared McKenna.
Student space has clearly been a hot topic for students, administration, faculty and McKenna alike since the July 1 sale of the Archer and Donahue buildings.
While some members of the  Suffolk community may feel uneasy about the university's future, for McKenna, the challenge is more an opportunity.
"I was not happy with the original layouts as they were when I came in, so I'm still working with people on how to improve the amount and quality of student space in particular," said McKenna.
Some of that work, she shared, begins with expanding space both in 73 Tremont's Mildred F. Sawyer Library and the Sawyer Business School.
While rumors have circulated if Ridgeway will be on the campus map moving forward, McKenna said she is in the process of figuring out how to utilize that space by potentially putting in a fitness center and taking out the bookstore.
"I want to be able to provide students all the resources possible so they can have that engagement in the community," said McKenna. "Students who engage stay."
While placing this level of emphasis on improving student life is one of McKenna's critical goals, she ultimately faces the need to be practical and to deal with tough decisions moving forward that may potentially be at odds with students' interests.
In the interview, however, McKenna clung to her view that focusing on students is key.
"If you base your decisions on what is the best for students, you will never go wrong. No matter what the decision, from curriculum to resources to buildings. If you listen to them, everything else falls into place," she said.
One of these pressing decisions still lies in the future for Suffolk's performing arts community. While McKenna has personally seen the positive impact of performing arts engagement in her two sons, both once deeply involved in college arts, the reality is there has yet to be word of any significant development nearly six months since she was appointed.
The university is slated to lose the C. Walsh Theatre, which McKenna calls "the heart of the university," at the end of the academic year.
"We haven't totally solved the problem yet, but we're working on it and we will. There's no question we will solve this problem. We will find ways using all of our resources to ensure our student groups will have places to build," insisted McKenna.
In regards to her long-term vision for the university, McKenna has publicized in numerous interviews her mission to showcase what she sees as Suffolk's strengths.
"When you mention innovative programs and communications and public policy, Suffolk has to be on the list. That's what my goal is. My goal is we are known for 4 or 5 things we do better than our neighbors," said McKenna.
Though the president promised in an interview with the Boston Globe in May to not close any schools at Suffolk, her current emphasis on building a university that gears both to applicants and students may put certain majors in jeopardy.
"We're in a town with a lot of colleges and universities. So, if we have a program that isn't as good as or better than our neighbors, should we be doing it? We need to look at quality and demand not just for classes but across the board," said McKenna in an interview with the Journal.
In October, SBS voted a new Business Economics major into existence for BSBA as the first major that will cut across schools in this manner. This decision could possibly be a reflection of McKenna's way to integrate schools in lieu of major slashing.
"You can't be all things to all people, otherwise you end up as nothing," she said.
Hoping to keep the university tight-knit and embody what it actually means to have a student-focused institution, McKenna does appear to have significant insight on balancing students' access to explore intellectual curiosity with career-based majors.
"I think that it's very important to be a place that provides business balance," she said.
"We have a really solid liberal arts education and professional classes. The best way to prepare yourself for life is to prepare for a life of learning, and you do that with a strong liberal arts education. You need to have philosophy, sociology, English, and history to give you the kind of base to be a lifelong learner," said McKenna.
"We may prepare you for your first job and first career, but it's the strong liberal arts that will prepare you for the next one."