Cross country teams' rosters running on fumes
By Christian Nagle
Over the summer, Suffolk's cross-country program welcomed new coach James Petersen.
Petersen came from Bentley University as a 2014 graduate with a Bachelor's degree in Computer Information Systems but also started and competed in the MASCOT triathlon team, according to the Suffolk Athletics page.
During Petersen's three years at Bentley, he qualified for the Draft Legal Nationals as one of the top 75 collegiate men in the country.
His first challenge will be picking up the pieces of not – so – great scouting and a renovation of the Suffolk's athletics department. The scouting has led to a less than ideal situation for the amount of members on both the men's and women's teams.
The men's team has only five members and as of now is allowed to compete in races, but that could change if someone on the team were to be injured.
Sophomore Paulo Guedes said he isn't worried about the team this year and is understanding of the fact that the new coach had no time for proper recruitment.
"Our new coach came in only a couple of weeks before this semester started and had little to no time for proper recruitment," said Guedes. "I can assure that the team won't be lacking runners by next season."
The women's team is having better luck with 12 runners. Their struggles come with wanting more members in case of any injuries and developing players for future seasons, even if the average of runners on a team is around 14, according to the GNAC.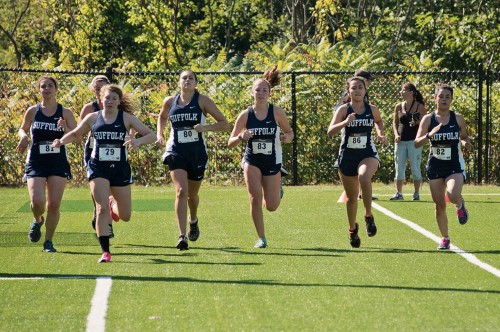 One of the main reasons for each team's struggles this season is due to poor recruiting and scouting efforts during the off-season. With little time for recruitment and scouting efforts, both teams missed out on running talent that would have greatly benefited them.
The program carries additional problems of finding more runners for this year's teams even after classes have started and finding times to meet and practice between the runners' competing schedules.
For most sports, a renovation season allows the team to concentrate even more so on team and player development. Development for the cross-country program will lead to better seasons in future, which includes better runners and more wins for the team. But for now, the focus is on 2015.
Petersen expressed his faith in the program, highlighting his plans for the program's future.
"Going forward into next year, I am going to be doing a lot of recruiting and there will be tryouts as well. I'm looking forward to the future of this team as a top varsity program and a true contender in this conference," Petersen said.
For Guedes, there is one goal for himself this season as well as something he believes to be a goal for the team.
"Our final race of the season [is the goal], the GNAC Championship," said Guedes.
Due to the lack of runners and the program's needed improvement, now is the best time for anyone who is interested in joining.
This is a development season, so even those who are not the most talented runners can get better.
Guedes noted how many of the athletes have never participated in a running team.
"Most of the runners are new to running cross country," he said.
For those students who are interested in joining the program or acquiring more information they should contact Petersen at his Suffolk email.
The women's team's next race will be on Oct. 3 and the men's next race the will be on Oct. 10.